Kevin Nicholson: Torquay United manager signs new three-year contract
By Brent Pilnick
BBC Sport
Last updated on .From the section Football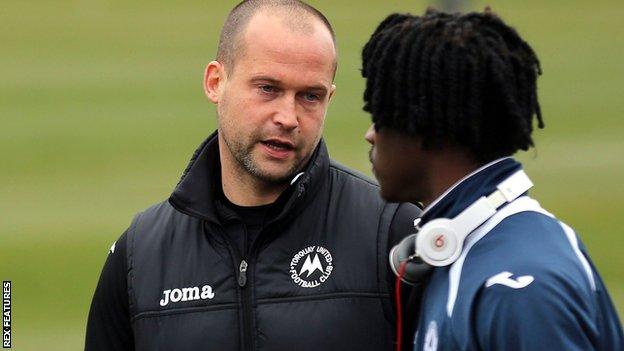 Torquay United manager Kevin Nicholson has signed a new three-year contract.
"We've not scratched the surface of the potential for this club," he said.
"I would like to be the man that has a chance to get it back to where it should be," Nicholson, who spent seven years as a player at Torquay added.
Nicholson guided Torquay to an eventual 18th-place finish in the National League amid a reduced budget and an imminent takeover.
The Gulls were in crisis when Nicholson took over, with Cox leaving in a row over his contract just months after a consortium of local businesspeople, led by Phillips, had taken over the club from millionaire owner Thea Bristow.
Robbie Herrera will continue to be Nicholson's assistant while physio Gareth Law will also stay at the club.
"Everybody knows my affinity with the club, everyone knows how much it means to me," Nicholson told BBC Sport.
"I'm keen to keep a large part of the group together, those core players that did so well under huge amounts of pressure.
"If they're pushed even further and pushed in the right way in a positive environment, like they were towards the end of the season, then I really don't think there's any limit to what they can achieve."
Torquay chairman David Phillips told BBC Sport he was delighted Nicholson had penned a new deal.
"Since he's been doing things his own way he's got players in and since the Christmas period he's been very successful and we hope that continues onto next season," he added.
"I think Kevin's a young, up and coming manager.
"He's very intelligent, modern-thinking on the way the game and fitness levels should be and I'm delighted he's signed a three-year contract, as at this stage I think he'll go far in the game."
The club has also confirmed that chief executive Steve Breed has left after almost a year in the role.