Garth Crooks' team of the week: Morgan, Van Dijk, Defoe, Aguero

By Garth Crooks
Football analyst
Last updated on .From the section Premier League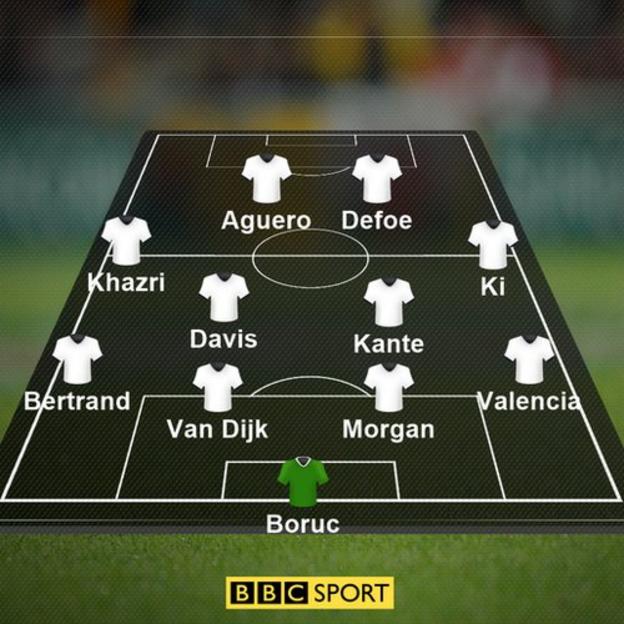 Leicester got their hands on the Premier League trophy after a win over Everton, while second-placed Tottenham lost to Southampton.
Manchester City's hopes of making the Champions League next season are out of their hands after a draw with Arsenal, with Manchester United, who beat Norwich, two wins from a top-four spot.
Sunderland helped their survival hopes with a dramatic win over Chelsea as arch-rivals Newcastle draw with relegated Aston Villa to leave their top-flight status in serious jeopardy.
Here are my selections for this week:
Goalkeeper - Artur Boruc (Bournemouth)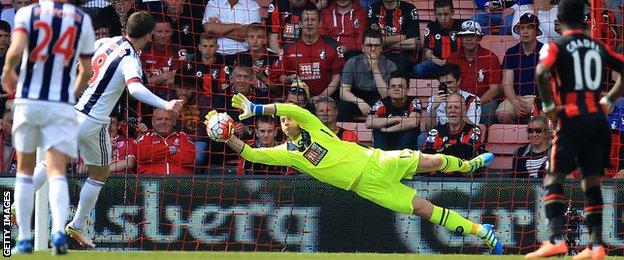 Artur Boruc's first-half fingertip save from Craig Gardner after he stopped his penalty didn't get the praise it deserved. The initial penalty save was impressive but to then stop the rebound from going in with his right hand was simply top class. For me Boruc, like many of his team-mates at Bournemouth, has slowly acclimatised to the level required to perform consistently at Premier League level.
It will be very interesting to see if he can continue to improve his game next season because there is no doubt that on his day the Poland international is a good as any keeper in the league. The question is does he have enough of those days?
Defender - Antonio Valencia (Manchester United)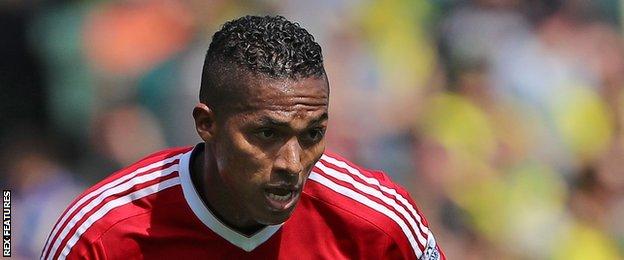 He's back and looking good. Manchester United have suffered more than most from injuries this season and Antonio Valencia has been conspicuous by his absence. Nonetheless, his return to bolster the defence has come at a very important time for United and, in particular, manager Louis van Gaal.
It is imperative for both that United get into the Champions League and winning an FA Cup will undoubtedly strengthen the manager's position next season. It would appear, based on his past few appearances, and against Norwich, that Valencia's presence in the team is critical to both scenarios.
Defender - Wes Morgan (Leicester City)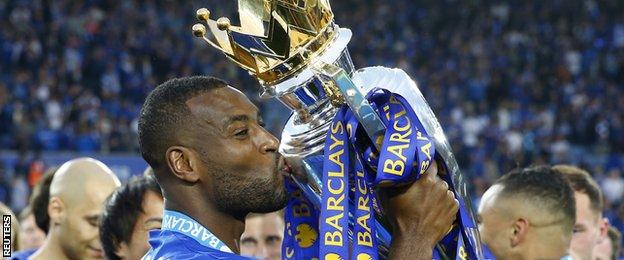 This Leicester City roadshow is getting out of control. The players must have been out until the early hours after Chelsea had crushed any notion of Tottenham winning the title on Monday. And yet they played like a team whose season had only just begun against an Everton side who looked like they were praying for it to finish.
Leicester's captain and leader Wes Morgan performed like a man who has never seen a drop of alcohol pass his lips and could have played football the entire weekend without food or water. It's what superheroes are made of and right now Morgan looks like he has got a team full of them.
Defender - Virgil van Dijk (Southampton)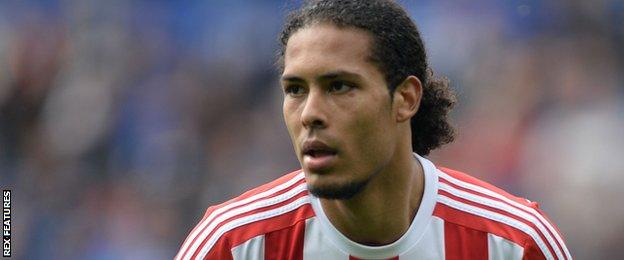 I must say once Southampton equalised against Spurs, Jose Fonte and Virgil van Dijk took control at the back for the Saints. Apart from one outstanding save from Fraser Forster late in the second half, the two centre-backs looked reasonably comfortable.
However, it was Van Dijk who came to the rescue on the few occasions Spurs did threaten to equalise and it is hardly surprising Saints manager Ronald Koeman has convinced his fellow Dutchman to sign a six-year contract.
Defender - Ryan Bertrand (Southampton)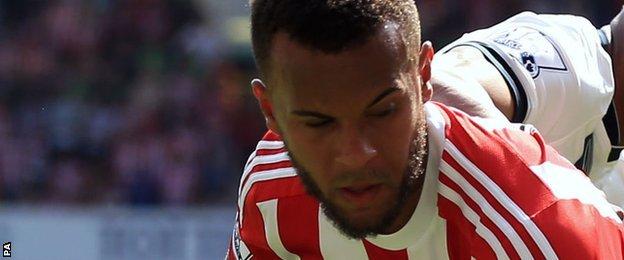 This lad has never looked back since the day he left Stamford Bridge for St Mary's. The Southampton defender looks every bit an international footballer and it wouldn't surprise me, as Chelsea begin rebuilding their team, if Ryan Bertrand appears on their shopping list.
He looked so comfortable against Manchester City last week and at Spurs on Sunday. He seems slightly ahead in the England selection process of his Tottenham counterpart, the more combustible Danny Rose. In the European Championship you are going to need a cool head, and Bertrand certainly has that.
Midfielder - Ki Sung-yueng (Swansea)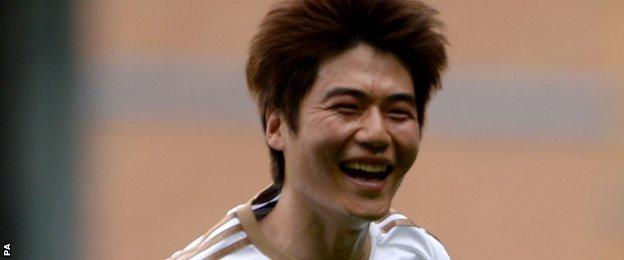 Where did Swansea's 4-1 win at West Ham come from? I thought Swansea had packed sun cream and flip flops as they had their minds set on warmer climes. It couldn't have been further from the truth. They were without Ashley Williams and Gylfi Sigurdsson so it was left to Ki Sung-yueng to mastermind Swansea's revival.
The South Korean was involved in Swansea's first goal and scored their third. In fact, the finish was superb and put the game beyond West Ham who looked shell-shocked. Can anyone tell me what is going on at Swansea? I haven't a clue whether manager Francesco Guidolin is staying or going. What I do know is Swansea look like a team again so the sooner they settle the concerns surrounding the manager's future, the better.
Midfielder - N'Golo Kante (Leicester City)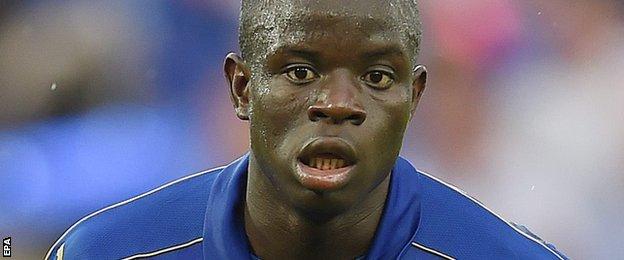 I've witnessed some amazing moments in football but nothing quite like Leicester City's success. Within this extraordinary achievement lies a player who epitomises the very best the club and its players have to offer - his name is N'Golo Kante. As the season draws to a close, this player continues to quietly go about his business without any fuss. He never complains, hardly misses a game and remains the pulse of a team that has lived well beyond its expectations.
Foxes manager Claudio Ranieri has begged his title-winning players to stay with him for one more year and then they can leave with his blessing. A clever and noble suggestion but I fear that if he loses Kante, in particular, during the summer then this amazing dream will come to an end.
Midfielder - Steven Davis (Southampton)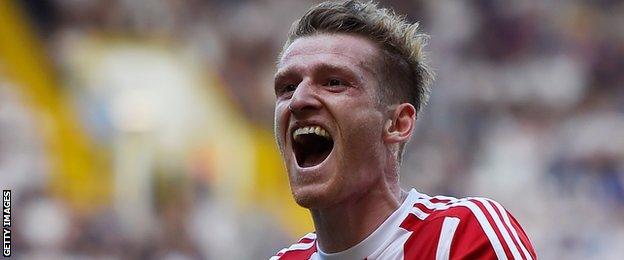 Southampton weren't supposed to go to White Hart Lane and take all the points but Steven Davis had completely different ideas on the matter. The silky midfielder scored two goals, the first gift-wrapped by Hugo Lloris - again - and the second was enough to put the game beyond a tired looking Tottenham.
Southampton have now acquired six points in two very impressive performances in succession and equalled their points tally from last season.
Midfielder - Wahbi Khazri (Sunderland)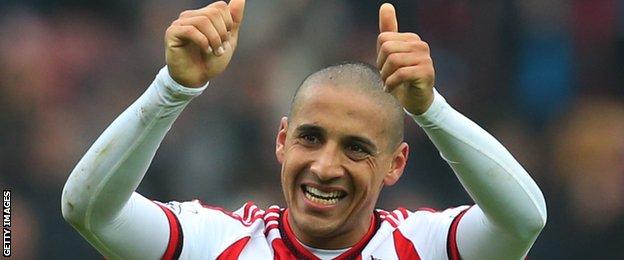 Sunderland threw everything they could at this game, including the kitchen sink. But then again they had to if they had any intention of remaining in the Premier League - nothing else short of a monumental effort would have toppled Chelsea.
The highlight of the game was the finish by Wahbi Khazri. The ball may have struck his shin and not his laces but that was academic because his technique was spot on. Sunderland now need one win from two games and they will send Newcastle, their arch-rivals, into the Championship. If that does happen, and it looks likely, will Newcastle owner Mike Ashley ask former boss Chris Hughton to bring them back up again?
Striker - Jermain Defoe (Sunderland)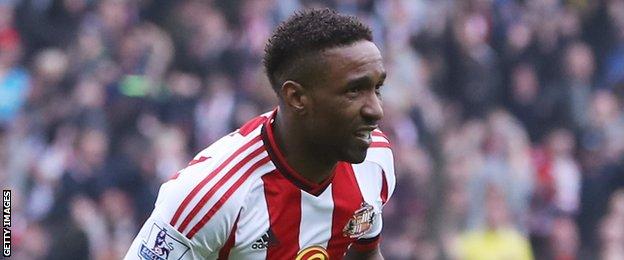 His interview on Football Focus earlier in the day provided the viewer with a sharp perspective about the way the striker saw pressures in football as opposed to life. Jermain Defoe has experienced personal trauma in his family and dismisses Sunderland's fight for survival as nothing more than a wonderful opportunity to show their fans how much they care.
Well, he certainly did that and more against a rejuvenated Chelsea. The striker looked as sharp as ever and took his goal brilliantly. From the moment Defoe brought his first touch under control the game was over. Finishing at its best.
Striker - Sergio Aguero (Manchester City)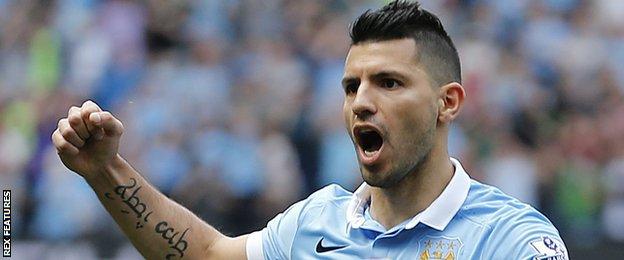 If it wasn't for Sergio Aguero's goals, Manchester City would be nowhere, which rather puts their season into context. His strike against Arsenal made it six Premier League goals in a row. But all his goals may still not be enough to see City through to the Champions League next season.
How must Pep Guardiola, who will take over as manager in the summer, and the smug Manchester City board, who were so intent on telling the world that they had clinched the services of the Spaniard, be feeling now? Not so smug, I suspect. Aguero could still win the Premier League Golden Boot and have to settle for the Europa League next season. Fat chance he'll stick around for that.
Have you added the new Top Story alerts in the BBC Sport app? Simply head to the menu in the app - and don't forget you can also add score alerts for the Six Nations, your football team and more.