Joey Barton: Burnley midfielder receives Championship winners' medal
Last updated on .From the section Football
Burnley's Joey Barton and James Tarkowski have finally received their Championship winners' medals following a mix-up by the club.
The Clarets apologised after midfielder Barton and defender Tarkowski had to go without one at Monday's celebrations.
The Football League had advised 25 medals would be presented, but 27 players came forward.
Burnley's media manager Darren Bentley took the blame, explaining to BBC Radio 5 live: "It wasn't my finest hour."
He added: "In all the excitement, I just completely lost the plot and all 27 went forward - of course it would be Joey that's last, wouldn't it?
"I've apologised to both the lads. They were really good about it."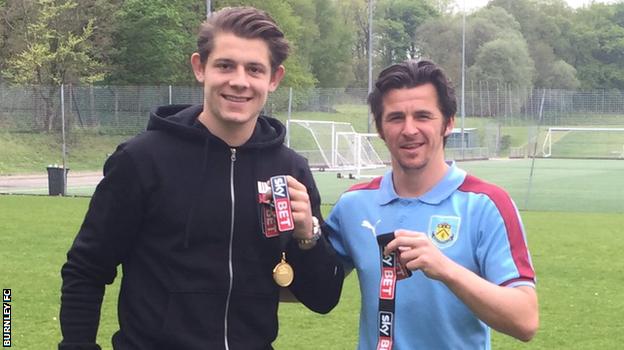 Barton, 33, was one of the last to arrive at Burnley Town Hall as the players were about to lift the Championship trophy, celebrating an immediate return to the Premier League.
When the trophy was passed around the squad, the club's player of the year refused to lift it, instead holding aloft an inflatable one he got from the crowd.
"No medal? What's going on?" the former Manchester City and Newcastle midfielder tweeted.
The club later wrote: "Burnley Football Club would like to apologise for the mix-up during the medal ceremony.
"We would like to apologise to the Football League for this administrative error and every player will be receiving one."