Barrow to release captain Simon Grand and seven others
Last updated on .From the section Football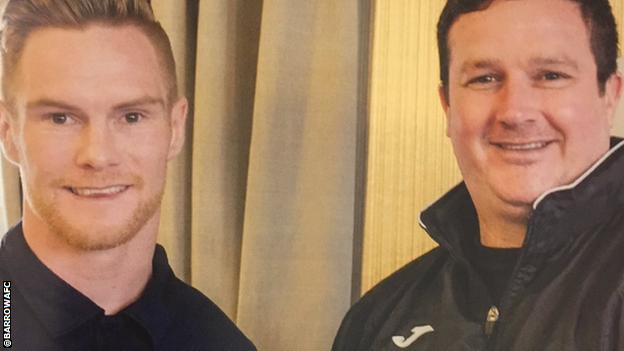 Captain Simon Grand will leave Barrow as eight players fail to have their contracts renewed.
Grand leaves along with club hero Jason Walker, both aged 32, teenage defender Brad Carroll and 17-year-old goalkeeper Dan Eccles.
Midfielders Mo Fafana, 28, Dan Pilkington, 25, Paddy Lacey, 23, and Alex Newby, 20, also exit.
Four players have been offered contract renewals, including Newby's brother, 20-year-old Elliot.
Fellow midfielders Alex Ray Harvey, 26, Andy Parry, 24 and 17-year-old defender Steve Williams make up the quartet who have been offered a new deal following an 11th-placed finish in the National League.
Grand helped to captain the side to promotion to the fifth tier of English football, while Walker was the game-winning goalscorer as Barrow lifted the FA Trophy in 2010.
Barrow have also said that talks are on-going to renew the contract of striker Andy Cook, 25, who scored 24 goals in 45 appearances for The Bluebirds this season, despite his willingness to pursue a career in the Football League.
BBC Cumbria Sport understands that Barrow have offered to make the talisman - and third highest goalscorer in the National League this season - the highest paid player in the club's history.