Motherwell quintet warned they will have to take pay cuts to stay
Last updated on .From the section Football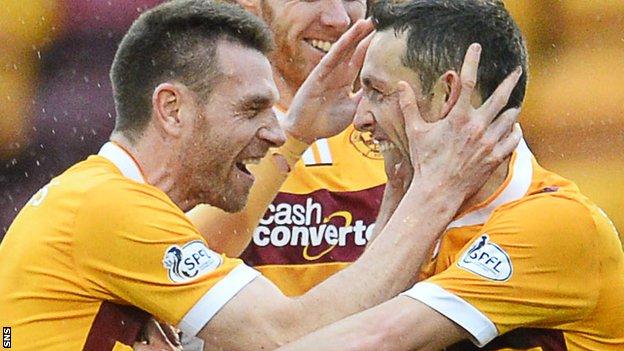 Motherwell manager Mark McGhee has warned five of his players they will need to accept a pay-cut if they are to remain at Fir Park.
Keith Lasley, Craig Samson, Stephen McManus, Steven Hammell and Scott McDonald have been offered new deals.
"The players are out of contract so in essence, from June 1 they won't be earning anything anywhere.
"Now we have a smaller budget to spend next year and we don't have a choice but to make cut backs," McGhee said.
The Fir Park boss says there could be more money to spend on his playing squad if Well manage to pip St Johnstone to a fourth place finish in the Premiership, securing the club an extra £90,000 in the process.
"The talks are ongoing, but we have a starting point and things can change," McGhee explained.
"For instance, if we finish fourth or fifth, it makes a difference compared to finishing sixth. We will factor that into the offers we make the lads."
Owner Les Hutchison signed an agreement in March to sell his majority shareholding to the Well Society fan-ownership group.
"Les Hutchison has left us in a good position," added McGhee, who is working on plans for next season with general manager Alan Burrows.
"He left us stable - but with a budget we have to make work.
"So Alan Burrows and I are carving that up as best we can. We need a squad.
"Next year, we're working towards 20 players, maybe 21, if we go with a second goalkeeper.
"We already have players under contract and that leaves us with an amount of money to re-sign the ones already out of contract and find the ones we need to bring in to take us up to 21.
"But we can only offer what we have to offer and we're doing our very best."