Scotland national side lacks quality to compete - Craig Brown
Last updated on .From the section Football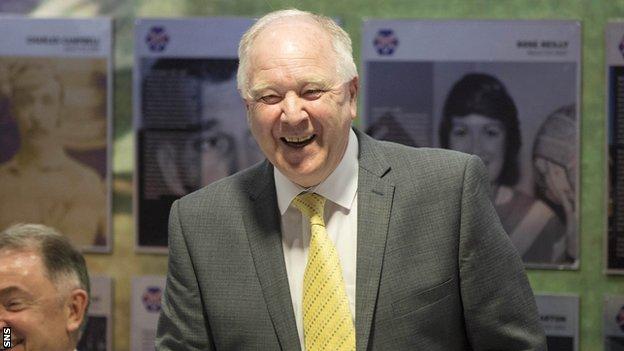 Gordon Strachan's Scotland side lacks the quality to compete at major tournaments, according to former national team manager Craig Brown.
Scotland are the only home nation not to have qualified for Euro 2016, which starts next month.
"Gordon has got a good shape about his team, but I just don't think he's got the personnel to get the results required," Brown told BBC Scotland.
"It's the standard of player we're struggling with."
Brown was at the helm last time Scotland reached a major tournament - the 1998 World Cup in France - and has sympathy for Strachan's situation.
"I think Gordon is an outstanding manager," Brown said. "He's unlucky - I'm thinking of the players he's got compared with the players I had.
"The guys I was able to choose from were playing at the top level with their clubs. The Old Firm, for example, were in Europe, and doing well in Europe. There's a level between club football and international football and that's European football.
"Derby County aren't in Europe, Bournemouth aren't in Europe, Watford aren't in Europe, so Gordon is struggling a little in terms of the experience these players have got.
"But I still think we've got a good enough squad to qualify for the next tournament in Russia."
'Second-rate' foreign players a problem?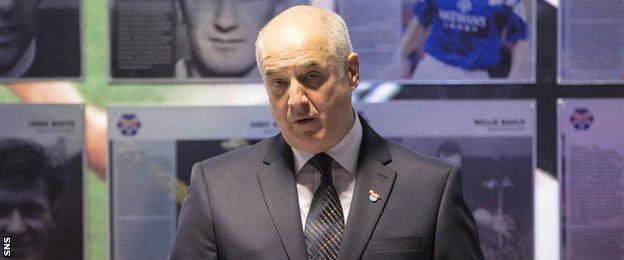 Brown's younger brother Jock, a solicitor, football commentator and former general manager at Celtic, is concerned by the number of foreign players in Scottish football.
"I am a little bit concerned that we had an under-16 team that went to a World Cup final (in 1989) but not one of these players made a big national career for Scotland," he said. "No-one made a real impact.
"At the moment, I think we're shooting ourselves in the foot by allowing all the foreign stuff to come in, of second-rate nature, frequently, when we don't give kids a chance to come through and have a few bad results.
"Especially for Celtic and Rangers, if they get bad results for a few weeks, it's a complete calamity and that's got to be changed."