Brendan Moore: Keeper 'number one choice' on Torquay's wanted list
Last updated on .From the section Football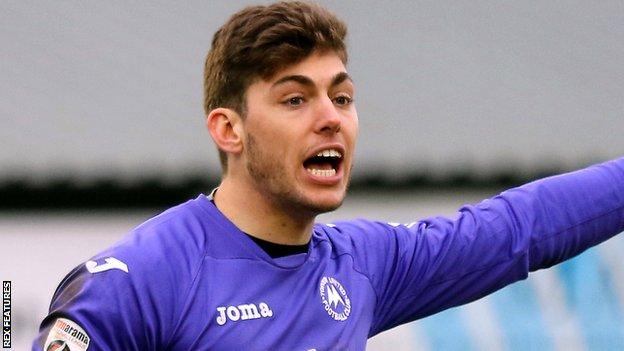 Torquay United player-manager Kevin Nicholson says goalkeeper Brendan Moore tops his list of players he would like to sign for next season.
The 24-year-old American joined the National League side on loan from Fleetwood in March, playing 12 games.
"Brendan is my number one choice at the moment to get back in," Nicholson said.
"I'll work as best I can to get Brendan back in - he enjoyed it here and I think he's keen, he's just having a look to see what else is out there."
Nicholson, who signed a new three-year deal last week, also revealed he will remain registered as a player after guiding the Gulls to safety.
But Iffy Allen and Danny Racchi were among the players to be released by the Devon club on Monday.
"Some of the lads, it was probably very very unfortunate that I couldn't offer them anything - with a bigger budget things might've been a bit different," added Nicholson to BBC Sport.
"I've got a big list of players already - players that I want to get in regardless and players that are back-up if some of my current players say that they're not going to stay.
"I'm just ploughing on as I should - I'm hoping to get as much done in the next week or so as I can."