Hibernian 2-2 Falkirk: 'McCracken handball was not deliberate'

By Kenny Crawford
BBC Sport Scotland
Last updated on .From the section Falkirk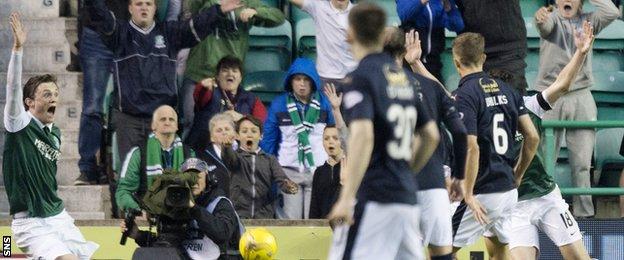 Falkirk first team coach James McDonaugh says David McCracken remains adamant his handball in the Premiership play-off semi-final first leg against Hibernian was not deliberate.
Referee Alan Muir did not award a penalty when McCracken handled in the box with the Bairns trailing 2-1, the match eventually ending 2-2.
"He actually felt he didn't deliberately mean it, no matter what it looks like," McDonaugh said.
"So you take his word for it."
Hibs boss Alan Stubbs described the failure to award a penalty as a "catastrophic mistake" which kept Falkirk in the game.
"He says he just kind of turned to defend and sort of fell and put his hands out because he was falling," McDonaugh continued.
"It has clearly hit his hand but if you look at a still of it, it looks worse than in full motion.
"A lot of people are maybe not sure that the rule is if in the referee's opinion it is a deliberate handball. If his opinion is that it isn't then he doesn't give it."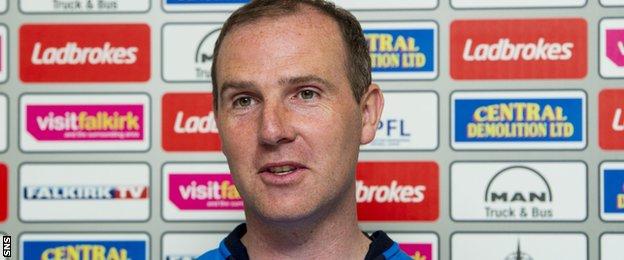 McDonaugh insists both family and career ties with Hibs have been shelved during their play-off contest.
He grew up as a supporter of the Leith side and worked as head of academy coaching with the Easter Road club for seven years before moving to the Bairns in 2014.
"It's strange to be applauding the fans behind the goal as opposed to the ones at the other three sides," he said.
"Something kicks in when the first whistle goes and you want to disappoint the rest of your family by telling them that Hibs have been beaten.
"My dad is 100% behind me and he wants us to beat Hibs. My granddad's a wee bit different; he's 100% behind me but 100% wanting Hibs to win. He's 88 and sometimes he'll ask me if I still like Hibs!
"Then I've got my wee boy, who's six and he's the most confused person in the family just now. He doesn't know whether he's supporting Hibs or Falkirk.
"But for me I know 100% where my loyalty lies and that's here at Falkirk."