Carl McHugh: Plymouth Argyle 'better prepared' for League Two play-offs
Last updated on .From the section Football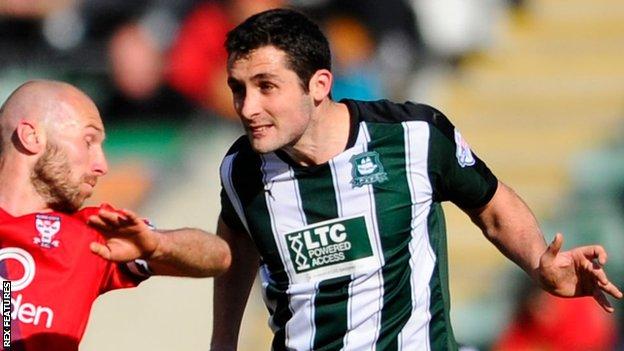 Plymouth Argyle's Carl McHugh says the club will be better prepared for this season's League Two play-offs after losing out last season.
"We've got that bit of experience now," McHugh, 23, told BBC Radio Devon.
"The spine of the squad have played in the games last year and hopefully that'll help us."
McHugh was named Argyle's Player of the Year this season, having moved into a holding midfield role after originally being signed as a defender.
He joined the Pilgrims in the summer of 2014 after helping Bradford win the League Two play-offs in 2013 - the same year the Bantams also made the League Cup final.
"We had a slow start at home and gave ourselves too much to do," McHugh said of Argyle's play-off loss to Wycombe, when they were beaten 3-2 at home in the first leg.
"You just have to try and learn from that experience. This year we'll try not to think the game up too much, just play it as we've played every other game this season.
"But they're not normal games at all. Form and everything goes out the window, they're different kind of games."
The former Northern Ireland Under-21 player added: "These are the games you want to play when you're growing up, full houses, two big clubs and big grounds, and a lot at stake.
"This is what you run around a track for in pre-season, so we want to make the most of it."