Swindon Town striker Jon Obika does not want to sign new contract, says Lee Power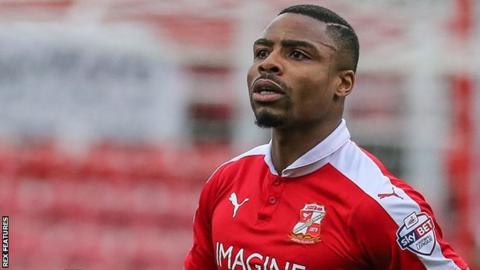 Swindon chairman Lee Power says striker Jon Obika does not want to sign a new contract with the League One club.
Former Tottenham trainee Obika scored 12 goals in 35 appearances for the Robins in all competitions this season.
The 25-year-old, who joined Swindon from Spurs in September 2014, has one year left on his current deal.
"He realises that if he goes and has a good year next year, he walks away for nothing and can quadruple or treble his money," Power told BBC Wiltshire.
"It's the first season that Jon's had a long run of games and I think everyone would agree he looks a different player - he looks strong, he looks fit.
"We've asked Jon to sign a new deal and obviously Jon doesn't want to which is his prerogative, not because he doesn't like the club, but everyone has to realise these are humans and they've got families."
Power also said he would like to keep forward Nicky Ajose, 24, who has had a one-year contract extension triggered by the club.
"My job is if the decision is made that he wants to leave, whether it's by the club or by Nicky, that I get as much money as I can," he added.
"Obviously I want to keep him, we'd like to. I think if we kept those two next season, I think they're going to have another good year and I think Jon will get more goals."