Rafael Benitez could stay as Newcastle manager after positive talks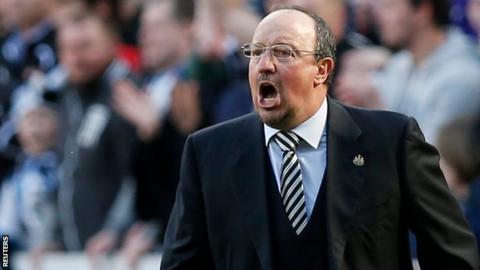 Rafael Benitez says he could continue as Newcastle manager after holding "positive" discussions with the relegated Premier League club.
The Magpies' second relegation to the Championship in seven years was confirmed on Wednesday.
Benitez, 56, succeeded the sacked Steve McClaren in March, winning two of his nine league games in charge.
"If I'm here and discussing it, it's because there is a chance, we have to keep talking," said the Spaniard.
"It could take a couple of weeks maximum."
The ex-Liverpool, Chelsea and Real Madrid manager is believed to have a break clause in the three-year contract he signed after McClaren's departure.
The club were 19th when he took over, but he could not save them despite claiming 10 points from nine games.
They were relegated by local rivals Sunderland's victory over Everton on Wednesday.
Former Magpies captain Alan Shearer said on Thursday he would be "amazed" if Benitez was still in charge next season.
But Benitez offered hope that he might stay when asked about his future in a news conference ahead of Sunday's final game of the season against Tottenham.
"We will have more meetings. The things that have been said have been positive and we will continue to have meetings," added Benitez.
"I want the same as the fans - a successful team, a strong team and to get promoted to the Premier League as soon as possible."