Kilmarnock 2-4 Dundee United: Clark changed players with play-off in mind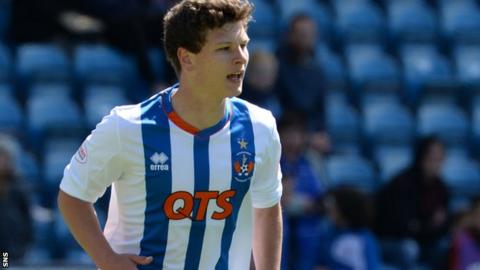 Kilmarnock boss Lee Clark felt he had to sacrifice the points against Dundee United to ensure a strong and fresh side in their play-off with Falkirk.
Clark made seven changes to his side and took off booked defenders Lee Hodson and Conrad Balatoni in the second half with Killie leading 2-1.
United went on to win 4-2 - only their eighth league victory of the season.
"It became a bit disjointed with the two substitutions I had to make," Clark admitted.
"I was informed that if they had got another [yellow card] they could potentially miss Thursday. I had to make those split decisions.
"And obviously if you are giving debuts and have a really young team and having to play a left-back at right-back, it isn't ideal. Although I've got to say I thought young Greg Taylor had a terrific debut at left-back."
Clark brought on midfielder Julien Faubert and teenage centre-back Lewis Clark to join fellow debutant Taylor in the back four.
"It's obviously disappointing but the bigger picture was always Thursday," Clark added. "That's why we left so many players out and that's why I had to make the decisions at 2-1 to take the two senior lads out.
"You want to win every game but Thursday and Sunday are too big for us to take any risks. I hate losing the game but I would have felt worse if Balatoni or Hodson had got another yellow card.
"The team will be completely different in terms of personnel, because one thing we will need on Thursday and Sunday is freshness."
Two-goal Murray 'a joy to work with'
Dundee United caretaker boss Gordon Young ended his brief spell in charge with seven points from three games.
He believes the future is bright for the club with the likes of Simon Murray, who scored twice at Rugby Park after another double last week in the win at Inverness.
"He has plenty of heart, plenty of effort, he's a joy to work with," Young said of the 24-year-old striker.
"And the young boys coming through should not just accept they have made their debut, not just accept they have had one or two games.
"The gauntlet I threw down to them when I was leaving was go and make yourself a first-team regular, and hopefully that's what they do."