Brian Little: Former Aston Villa boss may quit management after Jersey victory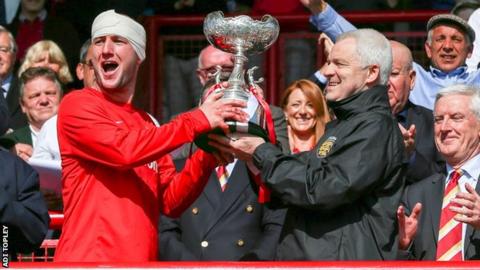 Former Aston Villa and Leicester City boss Brian Little says he may not manage again after leading Jersey to victory over Guernsey in the Muratti.
Jersey won a tense game by a single goal as Little led the island side for the first time in a competitive match.
"I'm not sure I'm cut out for management any more," he said.
"Coming in to a competitive game just drives you round the twist - and I've had 800-odd games doing it, so I don't know whether that's one too many."
Little was appointed as Jersey's director of football in November 2014 and stepped in to manage the side in January after his predecessor Jimmy Reilly left because of work commitments.
But, with Little being asked to advise Villa's board after their relegation from the Premier League, as well as media commitments in Ireland, he has not been able to dedicate as much time as he would have liked to Jersey.
"I want to reflect on what's gone on," he told BBC Radio Jersey. "This is a great project for me, I've tried to help as much as I can.
Brian Little's managerial career
Gainsborough Trinity - 2009-11
Stoke City - 1998-99
Wrexham - 2007-2008
Aston Villa - 1994-98
Tranmere Rovers - 2003-2006
Leicester City - 1991-94
Hull City - 2000-02
Darlington - 1989-91
West Bromwich Albion - 1999-2000
Wolverhampton Wanderers - 1986
"I've been more helpful to the team in the last few months, but not helpful enough in many respects. I've got a lot of work on which I'm very committed to, and I'd hate to think I was short-changing anybody."
But Little said he still felt as nervous for Saturday's big game as he had done for other important matches at the various professional clubs he has managed in the past.
"I've worked at the top level and I've worked at the sixth level of English football, and every game you play, especially a game that has an edge to it, is massive for you," he said.
"This is no different. I sat in that room before the game the same way I would have done sitting in a dressing room at Wembley.
"You get soaked up in it and when you work with a bunch of lads that give you everything they've got it's a great occasion, so it's every bit as important as anything I've done in the past."