Accrington boss John Coleman unhappy with play-off scheduling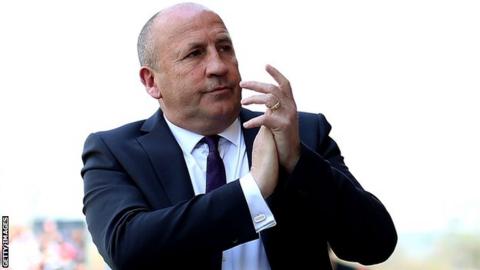 Accrington Stanley boss John Coleman has criticised the League Two play-off planning ahead of their second leg fixture against AFC Wimbledon.
The Lancashire side were beaten 1-0 at Kingsmeadow, with the game kicking off at 19:30 BST on Saturday.
Coleman's side face the Dons in the return fixture on Wednesday at the Wham Stadium with a 19:45 BST kick-off.
"People say it is an advantage to play the away leg first, that remains to be seen," he told BBC Radio Lancashire.
"I just don't see it as an advantage when you're getting home at half three to prepare for a game on Wednesday - how does that favour the team that finishes fourth?
"It flabbergasts me the games were moved when we should've played the Thursday game.
Asked if the scheduling gives an unfair advantage to Wimbledon, Coleman added: "Of course it does.
"[As] the team who finishes fourth everything should be mapped out in our favour, not the other way around."
Round two
Accrington have not beaten the Dons in their previous four meetings and would face Plymouth at Wembley in the final on Monday, 30 May if they could turn around the 1-0 deficit.
They missed out on automatic promotion on the final day of the season to Bristol Rovers.
"We've got to believe," added Coleman. "We've got players who can win a game at the drop of a hat.
"That's two games that we've drawn a blank and I'm still wondering how, but we'll keep going and plugging away.
"If there's any justice in this world, we'll win the game on Wednesday."