Steve Sharman: Guernsey manager says job is in doubt after second Muratti loss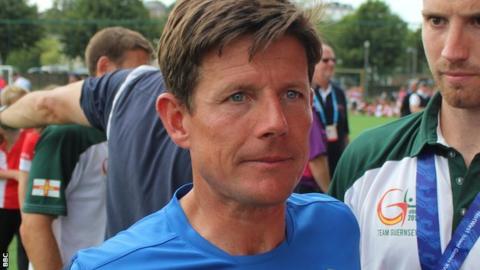 Guernsey manager Steve Sharman says his job could be in the balance after losing his second successive Muratti.
The Sarnians went down 1-0 to Jersey on Saturday, 12 months after losing 3-2 to their biggest rivals at Footes Lane.
"The last two I've taken and results count, so I've lost the last two - maybe that's up to the GFA [Guernsey Football Association]," Sharman said when asked about his future in the job.
"I'm sure there are lots of people out there who will suggest I should go."
Sharman, who works for the Football Association and is part of the Guernsey FC coaching team, led Guernsey to a convincing gold medal at last summer's Island Games in Jersey.
But he has failed to extend Guernsey's run of victories in the match, despite the island going into the game as favourites as the bulk of the squad play together throughout the season as part of Guernsey FC
"If anybody else is there and thinks and wants and shows they can do a better job that's absolutely fine," added Sharman.
"I'll always do something to try to help the island, but at the moment I'm not making any decisions on those, they'll be made for me."