Joey Barton: Rangers would benefit from his experience - Ronald de Boer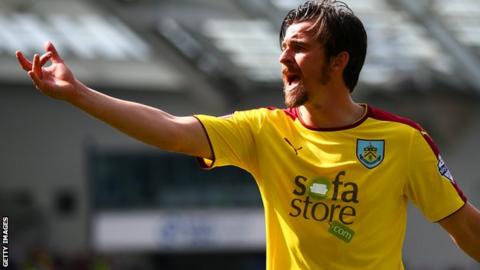 Former Rangers midfielder Ronald de Boer believes Joey Barton would bring experience and leadership to the squad if he accepts the club's offer.
The Dutchman said that the 33-year-old midfielder would be a "leader" and a "good signing, if he comes" to Ibrox.
"He has knowledge of the game, he's seen everything; it's important because the team is young," De Boer said.
"They need a guy with experience, on the pitch and at the training ground. You need a leader; Barton can do that."
Barton, who was named Player of the Year in Burnley's promotion to the Premier League this year, is mulling over an offer to join Rangers.
He was shown round the club's facilities on Saturday and enjoyed a round of golf at Loch Lomond on Sunday with Rangers striker Kenny Miller.
De Boer, who won the Scottish Premiership title, two Scottish Cups and two League Cups in a four-year spell at Ibrox in the early 2000s, says Barton would be joining "a great club with a great history".
"Everyone knows the magnitude of Rangers in Scotland - they know they are going to be the biggest rivals for Celtic," he said.
"Of course they have to strengthen in some places but the manager knows that very well. They have to find better players or challenge some of the boys there.
"It is very important you have 18 respectable first-team players, and I think Rangers are capable of attracting very good players."
'At the height of your career, you don't come to Scotland'
De Boer cautioned against chasing big-name signings though at the expense of a playing philosophy where young players can develop and prosper.
"[Signing the likes of Barton] would send out a message that they mean business, that they really want to challenge for the championship," De Boer noted.
"But you have to be realistic, and not just buy players because they make the fans happy. You have to buy because you think you need someone in that position and want to strengthen it.
"It is very easy to maybe go with emotion and buy people, but it is important you do your homework very well.
"What is a big name? Maybe he is a big name at the end of his career but probably doesn't have the legs anymore. When you are at the height of your career, you don't come to Scotland, with all due respect.
"It is the same problem in Holland, so you have to be creative and find some boys who can play three or four years and be a great asset.
"Sometimes you can forget that because you want great results quickly. It is not only big names that bring success. You have to have a good philosophy.
"I think that is more important than just bringing in big players."