Ray McKinnon on Dundee United: 'Head, not heart ruled my decision'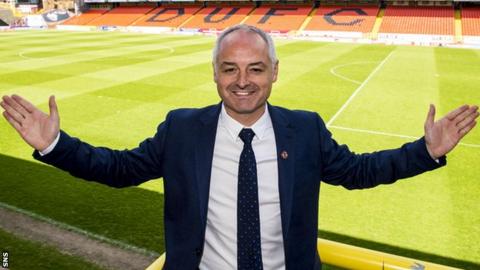 Ray McKinnon insists that his head rather than his heart ruled his decision to become Dundee United boss.
McKinnon has left Raith Rovers, and been followed by assistant Laurie Ellis, after only a year in Kirkcaldy to join another of his former clubs.
"It is no secret that I'm a United fan, but I made this decision with my head this time," the 45-year-old former United midfielder told BBC Scotland.
"It could have been quite easy to rule with my heart."
McKinnon, whose first senior club as a manager was Brechin City, led Rovers to fourth place in the Scottish Championship and a place in the play-offs.
The Fife side will be among his opponents next season as he takes charge of a United squad relegated from the top flight and on their third manager in nine months following exits by Jackie McNamara and Mixu Paatelainen.
McKinnon says it took several days of careful consideration before agreeing his three-year contract.
"I've made the right decision," he said. "It just feels so right for me to be here, I am very comfortable at this club and I can't wait to get started.
"This is a fantastic club and a fantastic opportunity for me."
Ellis, the 36-year-old former Rovers defender, has replaced Gordon Young, who had been caretaker following Paatelainen's exit.
"He's a fantastic young man, a great coach, highly motivated, very intelligent, very bright," said McKinnon.
Coaching advisors Darren Taylor and Grant Johnson also make the switch from Stark's Park.
"This is a very big club and it's our task to rebuild them and take them back to the Premiership and we are under no illusions about the task ahead, but it is certainly a job I am really excited about," said McKinnon.
"It is a very good league with a lot of good teams and it's been proven this season by some of the performances by teams against Premiership teams in cup competitions.
"You can see how difficult the league is to get out of and a look at the stats and you see that it took Rangers two years to get out and Hibernian are still in the league next season, while St Mirren came down and finished sixth."
New signings and fan unrest
Several players were released by United before McKinnon's arrival, while others have been told they can leave should they find another club.
However, McKinnon is in no rush to make new signings.
"There's lot of things that need to be worked upon," he said. "Dundee United have been relegated for a reason.
"I am not going to be making any rash decisions and bringing people in on a knee-jerk reaction."
Relegation led to protests against chairman Stephen Thompson, but McKinnon has a simple remedy for bringing the fans back on side.
"Quite simple - we get a team on that park that the fans can be proud of and that's my job and I'll be giving it everything to do that," he added.