Chelsea & Tottenham fined by FA over Stamford Bridge draw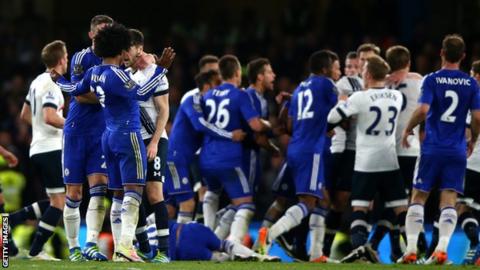 Chelsea and Tottenham have received record fines following three charges of failing to control their players in the 2-2 draw at Stamford Bridge.
Chelsea must pay £375,000, having previously breached the Football Association rule on mass confrontations four times since November 2014.
Spurs have been fined £225,000 for what is their third breach of the rule.
The match produced 12 yellow cards and the fines are over two incidents during the game and one after full-time.
Earlier this month, Spurs' Mousa Dembele was banned for six games for violent conduct during the same match, which ended Tottenham's hopes of winning the Premier League.
Belgium midfielder Dembele, 28, appeared to eye-gouge Chelsea forward Diego Costa.
Tottenham boss Mauricio Pochettino stepped on to the pitch at one point to separate Spurs defender Danny Rose and Chelsea forward Willian, and at full-time Rose was also involved in an altercation that ended with Blues boss Guus Hiddink being pushed to the floor.
The FA has warned both clubs as to their future conduct.