'Will Grigg's on fire' parody earns Wigan fan a free season ticket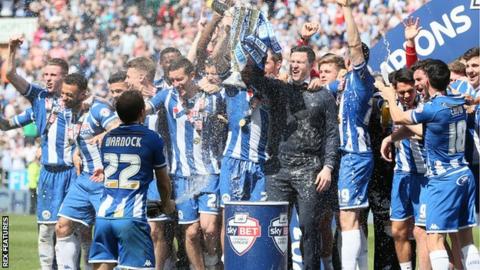 One Wigan fan has expressed his love for his club's striker through the medium of song - and it's earned him a free season ticket.
Sean Kennedy took 90s dance classic Freed from Desire by Gala, rewrote the lyrics and renamed the tune 'Will Grigg's on fire' - in honour of the 28-goal Latics forward.
After filming himself singing it, Kennedy's song was adopted by the Wigan fans in the stands, and the players sang a rousing rendition on the pitch when they celebrated winning the League One title earlier this month.
Even the club's chairman David Sharpe is a fan.
Sharpe tweeted on Monday: "Signed him for his goals but this Will Grigg chant was worth paying money for alone! It's gone worldwide!
"For inventing the best chant ever known to man, you've earned yourself a free season ticket for next season @KennoUTJ. Will Grigg's on fire."
Kennedy's inventive lyrics include: "He will score goals, he will just score more and more. He will score goals, that's what we signed him for. Will Grigg's on fire, your defence is terrified."
He also parodied Alicia Keys' 2012 single Girl on Fire and dedicated it to 24-year-old Grigg... but it hasn't quite caught on yet.