Celtic teen striker Jack Aitchison is a Gunner at heart

By Rhona McLeod
BBC Scotland
Last updated on .From the section Football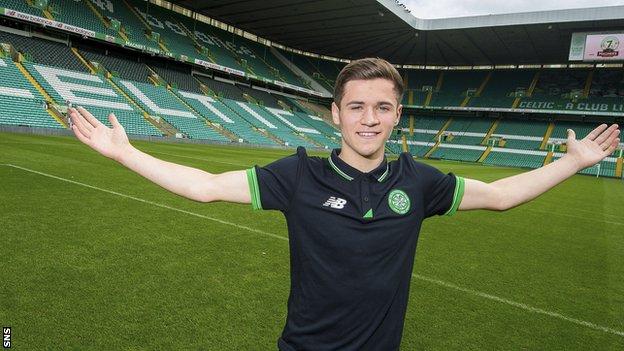 The record books were rewritten at Celtic Park as Jack Aitchison became the club's youngest debutant at 16 years, 71 days.
And, with his first touch of the ball, the academy striker provided a fairytale finale to Sunday's seven-goal routing of Motherwell by completing Celtic's scoring.
Media attention and social media celebration of the achievement has come unexpectedly.
But, while it's his youth in focus, Aitchison displays maturity beyond his years off the field.
Aitchison is level-headed and grateful for the opportunity afforded him by outgoing manager Ronny Deila.
The Scotland Under-17 international received his call up into the senior Celtic squad at short notice.
"It was amazing," Aitchison told BBC Scotland. "It was mind-blowing that Ronny asked me to come into the squad, to stay overnight with them in the hotel.
"And then when he called me on to give me my debut in front of 50,000 fans, it was just a dream come true."
Even the moments leading up to Aitchison's call off the bench seemed surprising.
"I was just back from the toilet," the teenager revealed as he recalled his entrance into a game after which Celtic received the Scottish Premiership trophy.
"He said Jack go and warm up and the fans were clapping as I was warming up. It was just amazing.
"Just looking around the stadium and seeing how busy it was. I've never played in front of a crowd like that."
Then, just moments after he stepped on to the field of play, Aitchison found himself with a scoring opportunity in front of goal.
"It was my first touch, I was lucky the deflection ran into my path," he said. "I ran onto it and just hit it.
"As soon as I hit it, I knew it was going in. It was the best feeling in my life so far."
It meant he had not only taken over from Mark Fotheringham as Celtic's youngest-ever player but took the record from David McLean, who was the previous youngest scorer at 16 years and 317 days back in 1907.
Now Aitchison says he will work hard to improve and his maturity is such that he is very aware he is not the finished article.
He frequently states "the hard work starts now", he's simply looking for "more opportunities" and promises he will "keep my feet on the ground".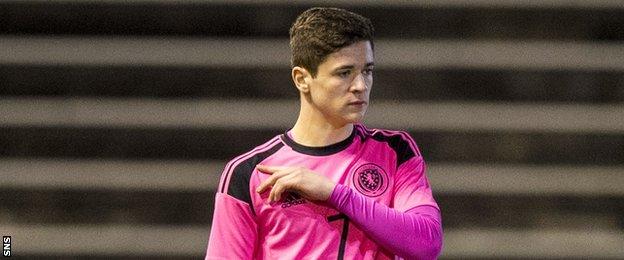 With the search for the new Celtic manager ongoing, Aitchison says diplomatically that he doesn't mind who the club appoint.
He is savvy enough to state: "It's up to me to get in his good books."
The teenager, who has just signed a new three-year contract, admits that Celtic is not the team of his childhood dreams.
"I'm an Arsenal supporter," he revealed.
"My dad has always been Arsenal and I just love the way they play."
However, he's not admitting to dreams of playing for the Gunners yet and sees his future very much at Celtic Park.
Jack Aitchison is a young man with a smart head and feet to match.
Certainly, he's one to watch for the future.