Derek Riordan: Former Hibs hero has no time for 'what ifs'

By Chris McLaughlin
BBC Scotland
Last updated on .From the section Football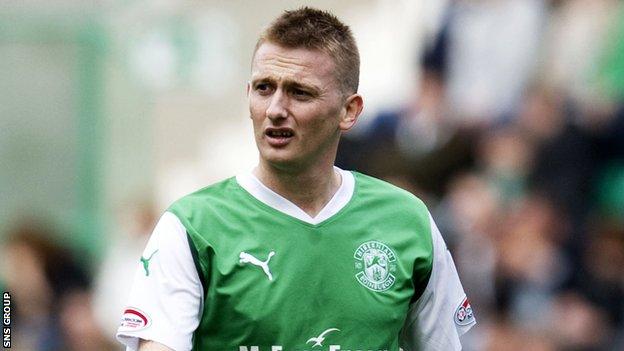 Scottish Cup final: Rangers v Hibernian
Venue:
Hampden Park, Glasgow Date: Saturday 21 May Kick-off: 15:00
Coverage:
Live on BBC One Scotland, BBC Radio Scotland & BBC Sport website
As Hibernian players nibble on their pre-Scottish Cup final meal on Saturday, a 33-year-old man from the Pilton area of Scotland's capital will probably be finishing off a few beers with his friends before heading for the local supporters' bus and ultimately Hampden Park.
But when he takes his seat for the trip across the M8, the former Hibs, Celtic and Scotland forward won't be wondering what if.
Derek Riordan is tired of 'what ifs' - but is he a man who has finally made peace with a pretty pockmarked past?
"I've been trying to prove people wrong since my time at Celtic but I've learned a lot," he says.
The man once described by Gordon Strachan as the best natural goalscorer he had ever seen, is a fascinating fallen hero.
Failure to make an impact anywhere other than Hibs and various brushes with the law gained him notoriety and saw a once promising career slide into obscurity.
After four months with recently-relegated York City he is back home and once again on the hunt for a club.
Off-field distractions
To say he portrays a reflective maturity and complete contrition at mistakes made would not be entirely accurate but he is perhaps more open to talk about them.
"I was obviously brought up in one of the rough parts of Edinburgh. I don't know what people expected from me," he explained.
"You can't change your pals or your family.
"Maybe if I had gone away to another country it may have been better but when you're with your pals in Edinburgh, what happens happens."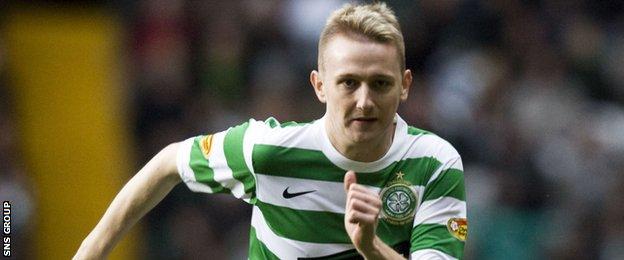 It's a frustrating answer that reflects a frustrating career.
As a young man at Hibs he was a deadly finisher with obvious flair; a local hero whose love for the club, during an era of blasé badge kissing, was never anything but genuine.
His reward was a move to Celtic but instead of it being the start of something big it was the beginning of the slide.
"I could have gone to a number of clubs but half of my family were huge Celtic fans so it made sense," he recounts.
"I didn't play as much as I wanted and then I had the fall out with with [then Celtic manager] Strachan - I just wanted to play.
"If the manager thought I was the best finisher he'd seen then why was I not playing?
"I remember one particular semi-final and I was taken off and replaced by Kenny Miller - the fans started booing and it really all went downhill from there.
"I think there were players there getting more opportunities than me because they were big names - it was hard."
After making his frustrations public, he was forced to train with the youth players and eventually after two years he was back with Hibs where he remained for a further three years.
Opportunities missed
An ill-fated period in China followed, then it was Bristol Rovers, St Johnstone, Alloa Athletic, Brechin City and East Fife.
From the outside looking in, fans could only see wasted talent and opportunities missed.
So why couldn't a young man loaded with natural ability carve out the career that at one stage looked written in the stars?
"There's lots of things that have appeared in the papers that never helped," he says looking down and slightly awkwardly.
"There were things that were stupid but other people were causing stuff too - people don't see that side of it."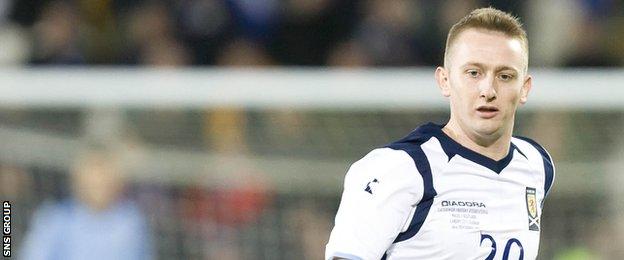 He was famously banned from Edinburgh nightclubs and linked to a number of barroom brawls. There were times when Riordan was associated with the front page of the newspapers rather than the back.
"I have held my hands up and taken responsibility at times when I knew it was my fault but there are people out there still playing that have done a lot worse than me," he insists.
One can't help but wonder if there's another Derek Riordan somewhere in parallel universe that grew up differently, had a strong guiding influence on the training ground and is now scoring regularly with a top club and reflecting on a glorious career.
If he has thought about that himself, he's not for saying.
Running out of time
"I'm 33 now and I've learned a lot - but you are who you are," he says.
"I like to work with the younger players now actually - I spent some time with Jason Cummings when I was back training at Hibs recently and enjoyed it but I still believe I have something to give - I still want to prove people wrong."
His physical shape would suggest that he does indeed have something left despite making just one York start under boss Jackie McNamara, but he's running of out time to stick it to the doubters.
Before the interview wraps up, the chat returns to one of the few constants in his life - his love for Hibs.
The awkwardness is gone and he's back on safe ground and genuinely passionate and excited at the prospect of his old club lifting the Scottish Cup for the first time since 1902.
"Hopefully this is the year," he adds.
"I must admit I'm glad we're playing Rangers. We've beaten them twice this season already so we've got a good chance."
There's a final twist, though, for this one-time hero. He confesses he is still looking for a ticket.
It's news that should surprise but somehow, sadly, it doesn't.