Steve Tully: Truro City boss hopes to sign new deal after talks with Peter Masters
Last updated on .From the section Conference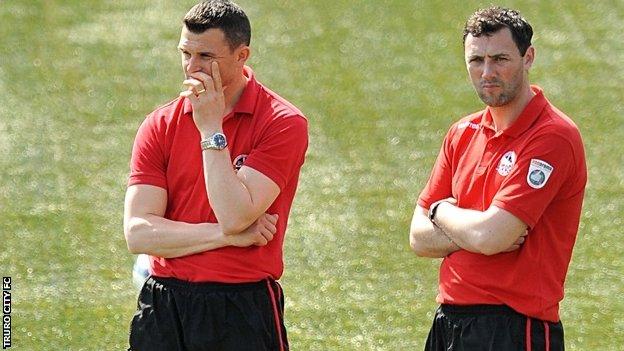 Truro City manager Steve Tully says he hopes to sign a new deal with the club in the "next couple of weeks" after talks with chairman Peter Masters.
He had said his future was "up in the air" and was "disappointed" his contract had not been sorted sooner.
"The club needed to match my ambition and they've definitely shown that - I want to be part of this club," he said.
"Yes it's taken a little bit of time but these things are never done over one day, so it's heading in the right direction.
"We'll hopefully finalise it in the next couple of weeks."
If Tully does stay with Truro he will largely be without assistant Wayne Carlisle, who has stepped down because of other work and family commitments but will still be involved with the side.
"I offered Steve another contract on the proviso that he finds a replacement for Wayne Carlisle," Masters told BBC Radio Cornwall.
"Steve's got a couple of people in mind - he's got to tie it up, come back, and we can get the pair of them under contract.
On Tuesday, club chief Masters said he is speaking to four parties about putting money into the club, including overseas investors.
"I'm talking to two serious parties now who seem to be suitors for us," he added.
"We're putting a plan in place for a two-year investment - it's six figure sums being offered, which I'm very keen to explore."