Steven Gerrard & Frank Lampard in top five MLS earners
Last updated on .From the section Football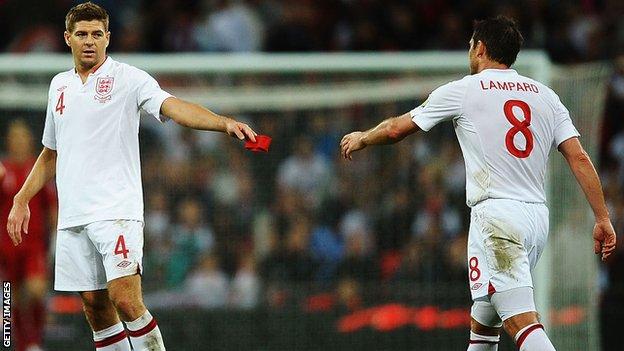 Steven Gerrard and Frank Lampard are among the top five earners in Major League Soccer, with ex-Real Madrid star Kaka the league's highest-paid player.
Former Liverpool and England captain Gerrard, 35, is paid a total of $6,132,500 (£4,199,393) by LA Galaxy.
Fellow midfielder Lampard, 37, who joined New York City last year, earns $6,000,000 (£4,108,660).
Former world player of the year Kaka, 34, earns a league-record $7,167,500 (£4,908,204) at Orlando City.
The lowest-paid player in the league, according to the figures released by MLS Players' Union, is Montreal's Belizean forward Michael Salazar.
The 23-year-old collects $51,492 (£35,260) a year - a sum Kaka can earn in less than three days.
MLS top five earners
1. Kaka (Orlanda City) Salary: $7,167,500 (£4,908,204)
2. Sebastian Giovinco (Toronto) Salary: $7,115,556 (£4,872,633)
3. Michael Bradley (Toronto) Salary: $6,500,000 (£4,451,109)
4. Steven Gerrard (LA Galaxy) Salary: $6,132,500 (£4,199,450)
5. Frank Lampard (New York City) Salary: $6,000,000 (£4,108,66)