Derek Adams: Plymouth Argyle manager sees positives in Football League plans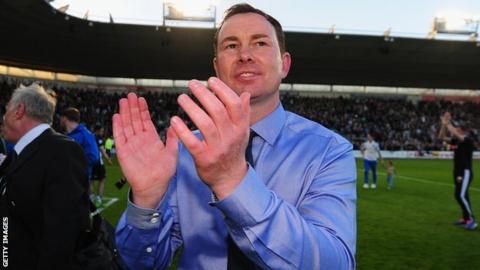 Plymouth Argyle manager Derek Adams says plans to expand the Football League will be beneficial for managers.
But the Argyle boss, who has led his club to next Monday's League Two play-off final, says any move to a structure that has five divisions made up of 20 teams must be looked at carefully.
"There's no doubt from a coaching point of view having 38 games rather than 46 is beneficial to a manager," he said.
"But it's not beneficial to the revenue of a football club."
He added to BBC Sport: "They're going to miss out on four home games, so to speak, so that's where it becomes a wee bit difficult."
Under the proposals, which were unveiled by the Football League last week, an additional division would be created if 90% of the organisation's 72 clubs agree to the plans at the 2017 annual meeting.
If they go ahead there would be no relegation from the current League Two in the 2018-19 season and eight teams would join from the National League.