Chris Swailes: From heart surgery to Wembley win with Morpeth Town
By Gemma Collis
BBC Newcastle
Last updated on .From the section Football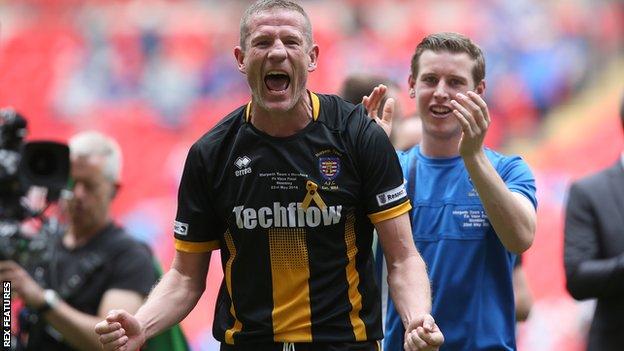 Two years on from heart surgery and having come back from retirement twice, Morpeth Town's Chris Swailes is celebrating his third FA Vase win and a little slice of history.
The 45-year-old became the oldest goalscorer in a Wembley final as he helped the Highwaymen of Northern League Division One to a 4-1 win over Hereford FC on Sunday.
"A couple of years ago I couldn't have imagined me doing that," Swailes told BBC Newcastle.
"I couldn't breathe on the pitch and had to come off to be rushed to hospital. It was very scary. It was atrial fibrillation that I had so I had heart ablation surgery.
"I couldn't play for a year and just gradually got fitter and fitter again."
Swailes completes FA Vase hat-trick
Former Doncaster, Bury and Rotherham defender Swailes won the trophy as a 22-year-old with Bridlington Town in 1992-93 and again with Dunston UTS in 2011-12.
Swailes admitted he "hoped it wouldn't be a hammering" when Midland League Premier Division champions Hereford took a first-half lead, but Swailes' equaliser helped to set up Morpeth's victory.
The Gateshead-born centre-back is no stranger to comebacks, having made several of his own.
After a lengthy Football League career, Swailes was forced to retire from full-time football following a heel injury in 2006 - only to return again the next season for Scottish club Hamilton Academical.
"I broke my heel bone," he said. "I had three or four operations on it but it didn't mend so I retired from full-time football when I was at Oldham.
"I had a three-inch screw in my heel, which gave me a lot of pain at the time but somehow it has just recovered and it's not a problem any more.
"I get asked [what motivates me] a lot. I think it's the camaraderie in the dressing room, competing against younger lads and winning of course. Days like Sunday make it all worthwhile."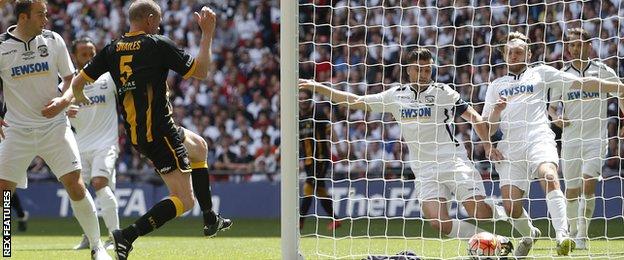 Swailes, who works as a machine operator making hoses for offshore oil rigs and trains only twice a week after work, must now decide upon his football future.
"I think it's a good time to retire," he said. "But also I'm thinking 'I'd love to play again'.
"I think my wife wants me to pack it in, but we'll have a good chat about it and then I'll decide. It's better than shopping on a Saturday afternoon, I suppose. I'd be lost without it."