Zamalek make U-turn over withdrawal from Egyptian league
Last updated on .From the section Football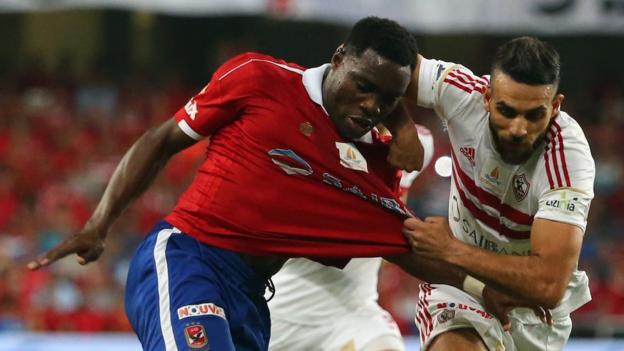 Zamalek have gone back on their decision to withdraw from the Egyptian Premier League because of "disastrous refereeing errors" and will now complete their fixtures.
The club had said on Wednesday it was protesting against biased officiating it believed was intended to "gift the title" to their bitter rivals Al Ahly.
Zamalek, who won the title last year, are eight points behind leaders Ahly with five matches left.
They will now play ENPPI on Thursday.
That match had been in doubt when Zamalek reacted to the dismissal of two Arab Contractors players in their 3-0 defeat by Al Ahly by issuing a statement mid-match declaring they would quit the competition.
"The club's board of directors, under the leadership of chairman Mortada Mansour, decided not to continue this league competition as long as the refereeing committee and its head Gamal El-Ghandour remain in their position," Zamalek said in their statement.
"The decision comes due to disastrous refereeing errors. At a time when an illegitimate goal by Maqassa against Zamalek was allowed to stand [in Sunday's league match], Contractors had two playeTHat match had been in doiuyvbrs wrongfully dismissed against Ahly.
"This clearly shows an intention to gift the title to Ahly amid a dishonorable competition."
Two Contractors players received straight red cards for protesting against a goal by Ahly striker Malick Evouna in the first half of Wednesday's match.
Seeking 'justice'
It is not the first time Zamalek chairman Mansour has said the club would quit the league, only to change his mind.
And on Thursday Mansour said: "I held a meeting with the club board members and they persuaded me to cancel the decision.
"I will hold a meeting with Mr. Khaled Abdel Azeez, the Egyptian Minister, and the Egyptian Football Association to stop what is happening in the League.
"I want the Egyptian Football Association to axe Referees' chairman committee Gamal El Ghandour, the domestic league will stop after today's match and that is a good chance to axe El Ghandour.
"I have don't have a problem if Al Ahly win the league, I will congratulate them, but I want them to win it in a fair way not with referees' help.
"I don't want to damage Egyptian football , I just want justice. Referees are trying to make us lose the matches and they help Al Ahly to win the games."