Jose Mourinho's Manchester United XI - Bale, Ronaldo, Pogba, Zlatan?
Last updated on .From the section Man Utd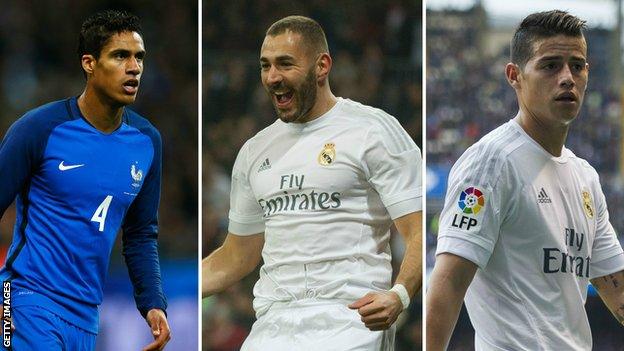 Where does Wayne Rooney play? Who starts in defence? And where will the goals come from?
With BBC Sport's team selector, we gave you the chance to pick Jose Mourinho's Manchester United starting XI, based on the current squad plus a selection of players linked with the club in recent weeks.
We analysed the data at a point where 179,000 individual teams had been selected, and from the players chosen, some conclusions can be drawn.
Not used the selector yet? Have a go here:
Man Utd XI for 2016-17
Who will be in the team for the start of the season? We've included the current squad plus a selection of players linked with United.
The formation
You think United should play a flat back four next season - formations with three or five at the back accounted for fewer than one in 20 teams selected. The most popular formation was 4-4-2 (selected by 92,000), followed by 4-2-3-1 (45,200) and 4-3-3 (23,200).
One in 500 users picked a 5-4-1.
The keeper
Unsurprisingly, David de Gea was the overwhelming pick in goal. De Gea was chosen by more than 171,000 users (95.6%). The message to Mourinho is clear - do what needs to be done to persuade the Spaniard to stay.
The defence takes shape
A fit Luke Shaw is the left-back of choice. Shaw, out injured since September, was picked in 80% of teams - the highest proportion of any outfield player.
Joining Shaw in defence would be Chris Smalling, who was selected by 76.5% of 'managers' - at the time of analysing the data that was 136,000 teams.
However, you think Daley Blind should not be at centre-back. Blind started 55 games in all competitions last season - the joint most along with Smalling, with the majority coming at centre-back. With Smalling, he formed the league's joint best defence, judged by goals conceded.
But fans were not convinced - less than one in 10 of you (9.79%) chose him as a centre-back in a back four.
Two players stood out as being the fans' pick to partner Smalling - Everton's John Stones (69,000), a Mourinho target while at Chelsea, and France's Raphael Varane (81,000), who Mourinho signed in 2011 while Real Madrid manager.
At right-back, Matteo Darmian was the most-picked player but still only made 35.3% of teams.
Youngster Timothy Fosu-Mensah was the second most-popular right-back (19.9% of teams) despite only having started two Premier League games.
Antonio Valencia, who started the FA Cup final, was picked in that position by just 11.1% of users.
Midfield - Rooney over Ronaldo
As with the England selectors, Wayne Rooney was mostly picked in a midfield role. He was selected there by 99,100 users, almost 33,000 more than any other player.
While Rooney's selections were spread across multiple midfield positions - including central in a 4-4-2 and in a support role in a 4-2-3-1 - Antony Martial's 66,400 midfield selections were mostly in one of the three support roles in a 4-2-3-1 formation, or on the left of a 4-4-2.
Real Madrid duo Gareth Bale and Cristiano Ronaldo were selected a combined 88,600 times - Bale accounting for the majority (55,300).
And while many fans picked Ronaldo, another former United player was also a popular pick - Paul Pogba selected in 49,000 teams, more than any of the club's established midfielders.
For the current squad, the stats wouldn't make great reading - Juan Mata was in 20.4% of teams, Morgan Schneiderlin 17.6%, Jesse Lingard 15.2%, Ander Herrera 14.8% Michael Carrick 12.2% and Bastian Schweinsteiger 10.9%.
At least they made double figures, though. Marouane Fellaini was picked as a midfielder in just 5.8% of teams.
Attack
One name stands out in attack. Zlatan Ibrahimovic was selected as a striker in 105,300 teams, almost double the amount of any other player.
Martial was in more than 53,000 teams - it is clear that for most people he starts, the only question being whether it is as a striker in a 4-4-2 or 4-3-3, or in a slightly withdrawn attacking midfield role.
Marcus Rashford was picked in attack in 47,800 teams (and in a total of 53,400) - but that is significantly less than one in three. Is he seen as being a talent to nurture, not a regular starter next season?
Tottenham's Harry Kane was selected in just 10,300 teams, though this may be a reflection of fans believing he is an unattainable target.
Other choices of note were Ronaldo (20,000 picks), Pierre-Emerick Aubameyang (16,600) and Antoine Griezmann and Karim Benzema, who were both selected just over 12,000 times.
So, what's the team for next season?
It's a balancing act choosing the team from the data. The 11 most popular players only work in a formation with three or five at the back, yet 95% of people chose a flat back four.
So we have made what is hopefully an acceptable compromise, picking a formation that enables us to create a team which is a fair reflection of the data. However, Mourinho might want to sign a new right-back to placate the fans...