Scotland need tough friendly matches ahead of qualifiers - Mark McGhee

By Liam McLeod
BBC Scotland in Malta
Last updated on .From the section Football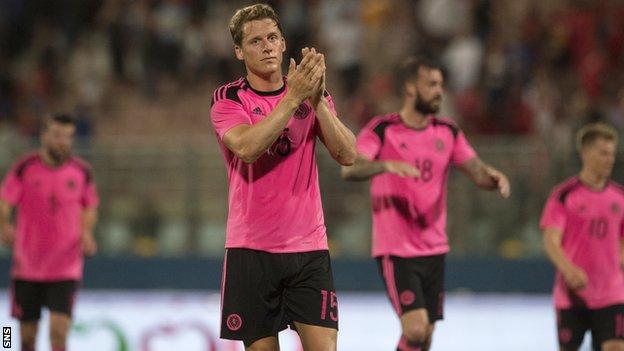 Scotland assistant manager Mark McGhee insists there are no regrets about taking on two tough summer friendlies, despite being outclassed by Italy.
Although they were only beaten 1-0, the Scots were dominated in Malta.
They are now faced with an arguably tougher proposition on Saturday - Euro 2016 hosts and favourites France.
"It is a good exercise in reminding us exactly what's going to be required in the qualification campaign that's coming up," said McGhee.
Head coach Gordon Strachan said immediately after the defeat that it had helped him know how to combat the kind of 3-5-2 system adopted by the Azzurri.
"We didn't see anything we didn't know, but there are reminders there for Gordon and myself about the key elements in a team that is going to be successful in the next campaign that will have to be in place," said McGhee.
"Even from the negative, we draw a lot from that because it's lessons for us. People get opportunities, we learn a lot more about them.
"The only thing about the France game is that we might get a better result, but that'll be no more relevant to what happened last night as long as we learn stuff that benefits us when we start the World Cup qualifiers."
'France will be more difficult'
McGhee was willing to acknowledge that, in all likelihood, the Scots will be taking a step up in class when they face the French in what is Didier Deschamps' side's final warm-up match in front of a packed house in Metz.
"I think Italy will be a decent team at the Euros, I don't think they'll win it, but I think France could, given the home advantage," the Motherwell manager told BBC Scotland.
"I think it will be a much more difficult game. However, I think it'll be a big crowd, be on a better pitch and all those things will help us as well.
"There are things that affected us against Italy that we'll benefit from and France, the game itself, the difficulty of the game, the importance of it being their last game before they go into the Euros, will help tune us in as well, so I've no fears for the game.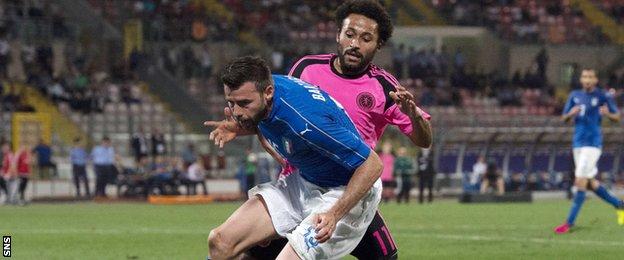 "Why should we have any fear? We have a group of players capable of a good performance. We know we'll be difficult to beat."
Before the Scots took to the field in Malta, a warning was sounded from Augsburg in Germany as the reigning world champions were beaten 3-1 by Slovakia.
Scotland will face the Slovakians and their Euro 2016 group rivals England in the qualifying campaign for the 2018 World Cup, with a trip to face Germany's conquerors scheduled for October.
"I don't think we needed a warning," said McGhee. "We have total respect for Slovakia.
"I'm going over to that game - Slovakia and England. We'll be paying a lot of attention to all of the teams in our section.
"Germany will still be one of the favourites for the Euros regardless of last night.
"They had a changed team, there was poor weather conditions, a couple of bad errors, so there were a lot of things that went against the Germans last night."