Scottish FA reveal chair for cup final disorder commission
Last updated on .From the section Football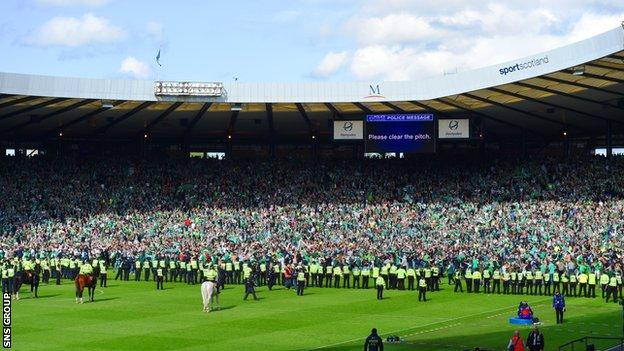 Edward F Bowen, a former sheriff principal for the Lothian and Borders, will chair the independent commission into the Scottish Cup final disorder.
Mr Bowen CBE QC will establish the commission immediately.
And he will provide the Scottish FA with a report into the "security and risk management procedures" deployed.
The SFA has asked for the report to be presented by 31 July.
The SFA's compliance officer has also initiated an investigation into the scenes at the cup final, from a "football regulatory perspective".
A statement from the governing body says the independent commission will consider whether:
All reasonably practicable steps were taken to minimise the possibility of the pitch invasion and related events
There was adequate liaison regarding security measures among the relevant groups prior, during, at the end of the match and thereafter
The stadium configuration, segregation, seat sales and seating arrangements contributed to the pitch invasion
The response - including reaction times - of the relevant stakeholders (Scottish FA, Police Scotland, G4S and the clubs) in identifying, dealing with and resolving the pitch invasion and all related consequences were satisfactory.

There are measures that can be taken to improve the safety of players, officials and others proximate to the pitch at any stadium where association football matches are concerned under the auspices of the Scottish FA
Rangers said some of their players were assaulted by Hibs supporters during the pitch invasion, while the victorious Edinburgh club has already imposed bans on a number of their supporters.