Aaron Ramsey wants to light up the Euros with new blonde hairstyle
Last updated on .From the section Wales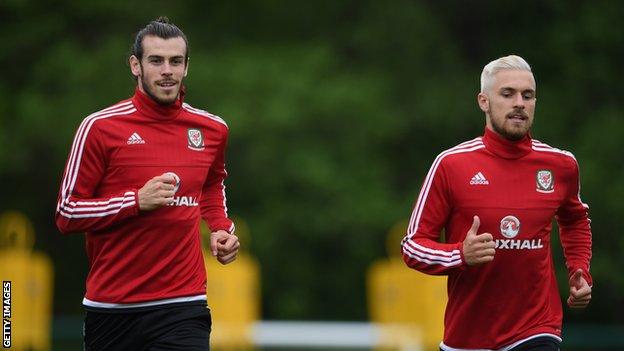 Aaron Ramsey plans to make a Euro 2016 impression on the pitch, having made one off it with a new hair style.
The 25-year old says a few of his team-mates could now follow him in going blonde, leading to comparisons with the Romania team at the 1998 World Cup.
"I have had a bit of that [about the Romanians] but I don't look at those things on social media," Ramsey said.
"To be fair, it was a bit of a shock to some of the players, but a lot of them are saying they are having it now."
"There's no significance to it - I just fancied a change," he said.
"I have been contemplating it for a while and just thought 'yeah, why not?'"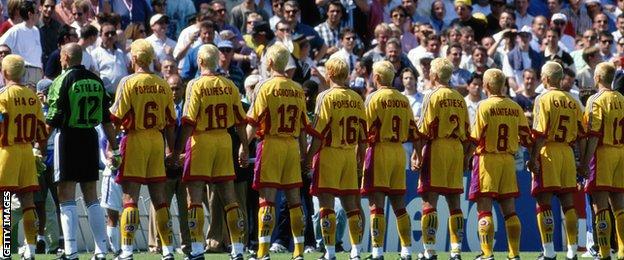 But Ramsey's intention is to stand out at the Euros more for his ability than his appearance.
Wales manager Chris Coleman says Ramsey is one of the best midfielders the country has ever produced ahead of their first major tournament appearance in 58 years.
The Arsenal midfielder has targeted a big tournament where the expectation is on him and Real Madrid's Gareth Bale to deliver.
"I want to make an impression on the field," Ramsey said.
"That is my main target, to help Wales get out of the group stages, and then see where we go from there.
"It was one of the biggest targets in my career to help Wales to a major championship and I've finally achieved that.
"For me personally I've played in some big games, but everybody's eyes will be on this tournament.
"I want to show that I'm more than capable of standing up and proving I can play at this level."