Peter Masters: Truro City chairman says Steve Tully's exit not down to finances
Last updated on .From the section National League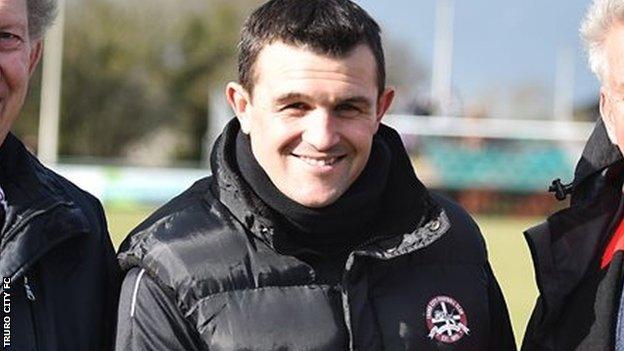 Truro City chairman Peter Masters says his decision not to renew manager Steve Tully's contract was not for financial reasons.
In his two full seasons in charge Tully got the Cornish side promoted from the Southern Premier League and reached the National League South play-offs.
Truro came fourth in the sixth tier this season, their highest-ever finish.
"Finances don't come into it - it's a relevant factor but the money situation did not come into it at all," he said.
"There are things that I'm aware of that perhaps Steve or the supporters are not aware of - I've got to do the best things for Truro City, the club is king."
Tully, who is in Burton studying for his UEFA A coaching licence, was told the news in a phone call with Masters on Thursday evening.
The former Exeter and Torquay defender was offered a new contract last month on the condition that a replacement was found for departed assistant Wayne Carlisle.
"We had one applicant but he came from Dundee, and for a part-time position we just didn't think it would be viable," Masters told BBC Sport.
"The reality is Steve is based up in Torquay, we've got the new stadium being built and we want to bring things back towards a local base.
"The manager, assistant and all training facilities have got to point this side of the Tamar."
Masters has been looking for at least £500,000 investment into Truro and says he is speaking to suitors in Canada, Saudi Arabia, China and the United States.
"The way it's happened could've been done better, but that's football," Tully told BBC Radio Cornwall.
"Obviously there are things going on behind the scenes that we don't know about - I thought I did but obviously I don't.
"I'll thank the chairman for giving me the job in the first place - I think we've repaid him more than he can ever know with the success that we've had."
Search for a successor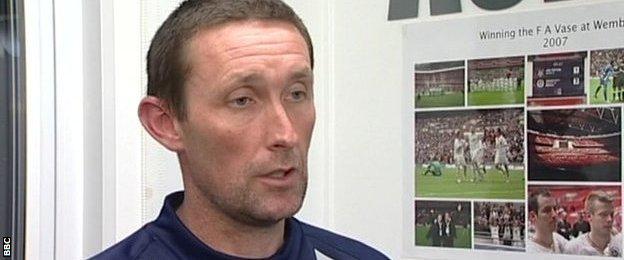 Masters must now find a new boss to replace Tully, and is confident that Truro is an attractive prospect.
"We had a number of applicants towards the end of the season for Steve's job - I've already been inundated," he added.
"Truro City has got a lot going for it - we've got the new stadium being built and we've got a reasonable budget, so there shouldn't be a lack of applicants."
One name being heavily linked with the vacancy is Lee Hodges, a former Truro player who managed the club between 2010-13.
"When Lee left the club last time, he left with a situation where players were not being paid, we were in £4.5m debt and in administration - he drew the short straw," said Masters.
"If Lee applies, that's one more name to be put into consideration."