Jayne Ludlow: Wales Women's boss says beating Norway will help Euro 2017 aim
By Mark Poyser
BBC Wales Sport
Last updated on .From the section Football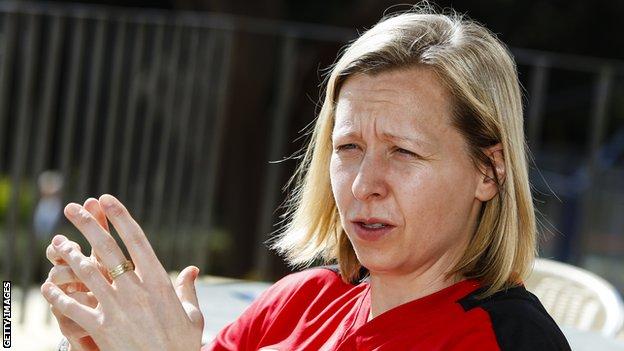 Wales Women's boss Jayne Ludlow says victory against Norway will give them "a fighting chance" of qualifying for the European Championships next summer.
Wales are third in group eight with three games to play, six points behind joint leaders Austria and Norway.
Only eight group winners and six best runners up will qualify for the finals in the Netherlands, with the other two runners up playing for the last place.
All of Wales' remaining games are at home, and Ludlow wants maximum points.
"The ideal situation for us now is that we win every game at home," she told BBC Wales Sport, "That was the plan at the start of the campaign, regardless of who we're playing to get three points at home.
"If we do that then we're still in with a fighting chance. Where we are, where we stand in the group, it's important that we get points from the game."
Despite a tough run-in, including their match against Norway in Newport on Tuesday, Ludlow believes they can put up a fight against one of the best teams in Europe.
"It's not anything that's daunting to us, it's something that we're looking forward to. There's realism in the group in terms of what it will take to get the three points in the game and we're all looking forward to the challenge that's ahead," she continued.
"To play one of the top teams in Europe is an exciting challenge for us."
After hosting Norway, Wales then play Israel and then Austria in September as they try to qualify for their first ever major tournament and Ludlow wants to follow the path laid down by the men's team who are getting ready for Euro 2016 this month.
"If you look at rankings we're not considered one of the top teams in Europe or the world but that can change, and it can change quite quickly as long as the right people are on board and the belief is there," she added
"The men have created that over the last 10 to 15 years, it's not something that's happened overnight. If you look at that squad and how long they've been together, they've been through age group teams and then come into the seniors together and been allowed to develop.
"We're very much at the start of that process and we need time. If we manage to get out of this group in this campaign then that would be above my original expectations because the first campaign was about building the right group and developing the right group.
"We're still in the process of trying to break down that barrier. The men have already done it and that's fantastic for them."
Wales have no injury concerns ahead of the game but have been boosted by the return to fitness of midfielder Jess Fishlock after the Seattle Reign star fractured her fibula playing for the American side at the end of April.
"When we first found out about the injury, yes there was a question mark over her," Ludlow said.
"But as soon as the scans were done it became quite clear there was still a possibility she would be able to play, even though there was some hard work to be done."