BBC Sport - Zlatan Ibrahimovic: His six Euros goals for Sweden in 60 seconds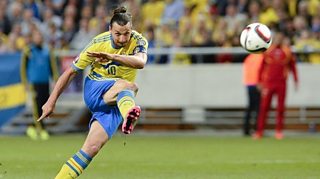 Zlatan's six Euros goals in 60 seconds
As former Sweden striker Zlatan Ibrahimovic confirms he will sign for Manchester United after leaving Paris St-Germain, BBC Sport remembers his six goals for Sweden at the Euros.
The 34-year-old was out of contract after four years at the French champions. He will link up again with his former Inter Milan boss Jose Mourinho at Old Trafford.
READ MORE: Manchester United to sign striker from PSG
Available to UK users only.