Benin beat Equatorial Guinea to keep Nations Cup hopes alive
Last updated on .From the section Football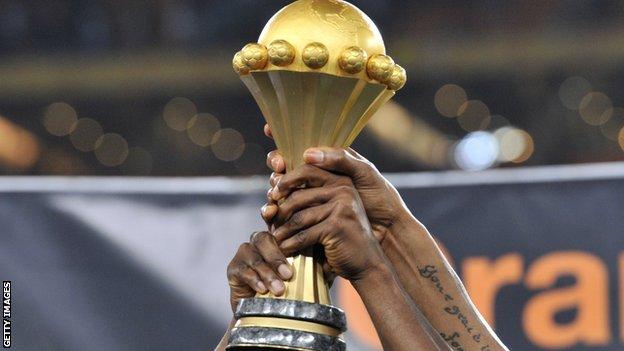 Benin beat Equatorial Guinea 2-1 in Cotonou in their delayed Africa Cup of Nations Group C qualifier to boost their hopes of progressing to Gabon 2017.
The result moves Benin to within two points of Group C leaders Mali who they will play in the final round of qualifying in September.
Group C of 2017 Africa Cup of Nations qualifying:
As it stands after five matches:
Mali - 13 points (Q)
Benin - 11 points
South Sudan - 3 points (eliminated)
Eq Guinea - 1 point (eliminated)
Mali have already qualified for Gabon. They have 13 points which means they will definitely advance as at least one of the best two runners-up if not group winners.
After an eventful week off the pitch, Benin started best on it, taking a 25th minute lead against Equatorial Guinea through defender Khaled Adenon.
The Squirrels held the advantage through to half-time, but the visitors struck back on 59 minutes, when Ivan Essono hit an equaliser.
The teams were only level for one minute, with Benin regaining the lead with a 60th minute goal from midfielder David Djigla.
Equatorial Guinea were further hampered by the sending-off of Edu four minutes later.
Mali will host Benin in their final qualifier in September.
The thirteen group winners will advance to the 2017 Nations Cup finals along with the best two runners-up and the hosts Gabon.