Karl Oyston: Blackpool chairman supports EFL Trophy plans
Last updated on .From the section Football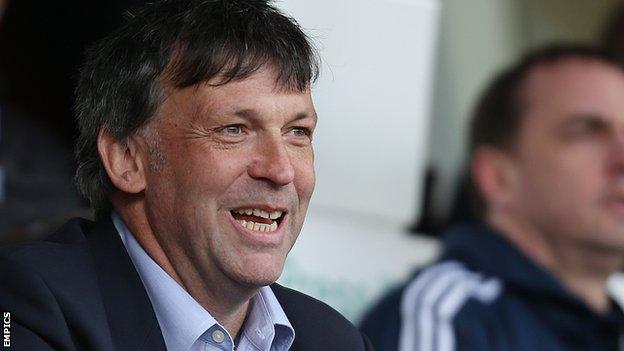 Blackpool chairman Karl Oyston has backed the change that will allow Premier League academy teams to play in the EFL Trophy next season.
The competition will be extended to 64 teams, with sides from 16 of the 21 category one academies invited to join League One and League Two clubs.
It will be a one-season trial in 2016-17 but opinion is very much divided among lower league clubs.
"I think it is a good idea," Oyston told BBC Radio Lancashire.
"We all complain about the national team not being very good and the Premier League academies seem to gobble up the best talent.
"I think the only crime is that you don't then use it and put these better players into proper men's football rather than the Premier League reserve level, which doesn't seem to be developing players as well as proper league football.
"I think it is a good thing for the national team - maybe not a good thing for the league, but I don't see the downsides really."
The other side

After the move was announced, Portsmouth, Accrington Stanley, AFC Wimbledon, Hartlepool United and Luton Town all released statements opposing the plan.
Accrington chief executive David Burgess said there was "no financial reward" for the League One and Two clubs.
"For example, the Premier League are offering another £1m prize money to get the EFL clubs into it - when you look and break it down into how the competitions will be played there is just no financial gain whatsoever teams like Accrington," he added.
"I'm sure that there are other opportunities for the competition. It has been dying on its feet a little bit but I'm sure there are better ways of making the competition viable for Football League clubs and not for the Premier League."