Phil Parkinson: New Bolton boss assured of transfer embargo lift
Last updated on .From the section Football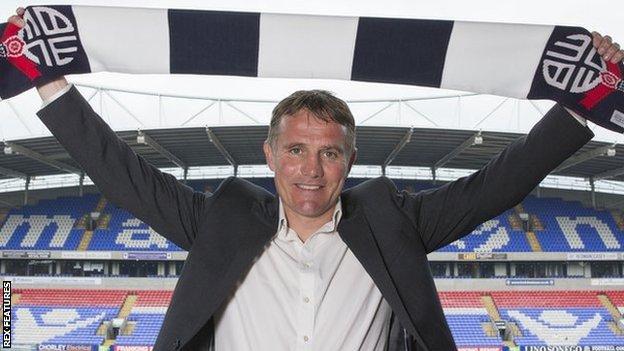 Bolton's new manager Phil Parkinson has been assured the League One side's transfer embargo will be "dealt with".
The Trotters were placed under an embargo in December 2015 after they failed to submit required Financial Fair Play accounts.
Parkinson, who replaced Neil Lennon on Friday, stated he has been assured that he will be able to sign players.
"That [embargo] was the key part of my conversation, that's going to be dealt with," he said.
"Ken's [Anderson, chairman] got a meeting in the next week or so and he's confident that will be dealt with and we can move forward quickly and get some players in."
The former Bradford manager also said Bolton's newfound stability attracted him to the job.
"The club's had difficult times but there's been a lot of work behind the scenes to get the platform right to move the club forward again and that's why the job really appealed to me," he added.
"A lot of work goes on behind the scenes in football clubs that the supporters don't see, so I've come here with the belief that we're going to attract players which are going to be top, top end at this division at least. "