Cristiano Ronaldo: Portugal captain labelled 'a bad loser' and 'petty'
Last updated on .From the section Football
Cristiano Ronaldo has been called a "bad loser" and "petty" for criticising Euro 2016 opponents Iceland following Tuesday's 1-1 draw.
The Portugal captain hit out at Iceland's lack of ambition during the Group F game and accused them of having a "small mentality".
But Iceland midfielder Kari Arnason responded: "It just makes it sweeter that he is a bad loser.
"We are a small island in the Atlantic Ocean and we got a draw against them."
Former Iceland international Hermann Hreidarsson also hit back at Ronaldo, saying he should have done more to help his side win in Saint-Etienne.
"He didn't fancy it on the day and he just got beaten up," said Hreidarsson. "It's petty in a way. He's a sore loser obviously."
The former Ipswich, Charlton and Portsmouth defender, 41, told BBC Radio 5 live: "He thought he could have goals handed to him on a plate.
"If he would have worked as hard as every Icelandic player, he wouldn't have had to say anything because I'm sure he would have got his rewards."
Ronaldo, making his 127th appearance for Portugal, said it had been a "lucky night" for his opponents and accused them of putting "the bus in the net".
"Portugal try to play football and try to win the game," said the 31-year-old Real Madrid star. "Iceland didn't try anything."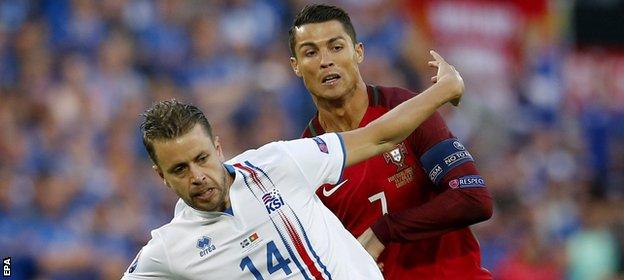 Arnason praised Ronaldo for being a "fantastic footballer" but said he was "not a gracious human being".
The Malmo player also suggested Lionel Messi, Ronaldo's long-time rival, was a more loveable character.
"His comments are the reason why Messi is always going to be one step ahead of him," said Arnason.
Iceland reached Euro 2016 by finishing second in their qualifying group, above the likes of Turkey and the Netherlands, who failed to make it to France.
They are appearing in their first major tournament and are the smallest nation to play at a European Championship finals, with a population of just 330,000.
"I thought they'd won the Euros the way they celebrated at the end," said Ronaldo, who appeared to refuse to shake hands with the Iceland players immediately after the game.
"We tried hard to win and Iceland didn't try anything. This, in my opinion, shows a small mentality and they are not going to do anything in the competition."
Birkir Bjarnason's 50th-minute volley earned Iceland a point against Portugal after Nani had opened the scoring in the first half.
Hungary top Group F after beating Austria 2-0 earlier on Tuesday.