Euro 2016: 'Willie Collum strolled through the match'
Last updated on .From the section Football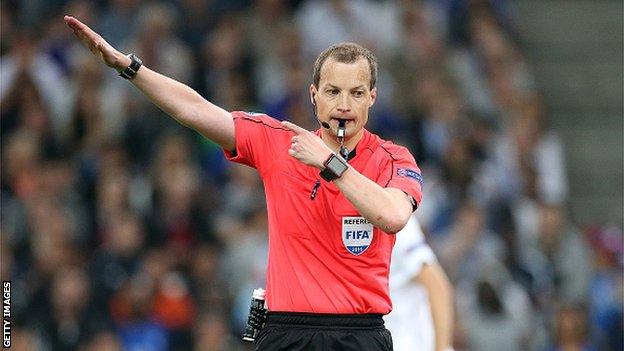 With Scotland's players failing to qualify, referee Willie Collum is the only Scot on the field of play at this summer's European Championship. BBC Sport Scotland takes a light-hearted look at his performance in his first match, France's defeat of Albania in Marseille.
As the cameras panned along during the anthems, Willie Collum took this first opportunity to display his impeccable impartiality, and refused to sing the Albanian national anthem.
And if the resounding Marseillaise gave the Lanarkshire school master a trace of goosebumps, there was nothing on show but professional determination. "Evra? Martial? Giroud? I'll have any one of ye! And if Pogba gets on later, I'll have him tae!"
A smooth coin toss, a quick thumbs up, and Willie effortlessly blew this match into life.
Within one minute and 40 seconds, we had the first howler of the evening, when the ITV commentator Clive Tyldesley called Willie a Glasgow schoolteacher. The whole world knows Bellshill is not in Glasgow!
'Stalking the football glitterati for code violations'
If the measure of a good refereeing performance is the extent to which he goes unnoticed, then Willie's pink pullover could have been an epic fail. To Scots watching on, it was also a chilling reminder of recent friendlies against Italy and the French, when, dressed in atrocious pink, not one Scottish player managed to touch the ball in 180 minutes.
It should be noted here that when Willie Collum was a boy, he was once the goalkeeper on the wrong end of an 18-0 thrashing in a school match. It's rather interesting to note, also, that keen to avoid further such humiliation, he decided to pursue refereeing. Not the last time either, I'm afraid, that we'd hear about Collum's calamitous positioning.
And so to the football. The French cocks were soon strutting then shuttling the ball from side to side. This was no problem for Willie, who, elbows pointed and whistle ready, bounded after the play, stalking the footballing glitterati for code violations.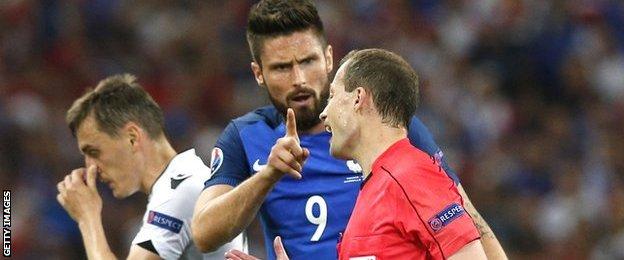 After a soporific 29 minutes of this, oor Wullie was beginning to look a tad anxious: no cards and not the remotest sniff of a penalty. We'd barely heard a peep. No pointing, and no scolding. Willie's multi-card, multi-controversy record was in clear peril.
Then France's Olivier Giroud disagreed with a decision. Yes! A chance for an intervention. Willie was there in nanoseconds, dismissing the menswear model's whimpers. I'm pretty sure he told the big striker to "shut it." Job done, game continues.
Then just before the interval, Willie pulled the big man up for another marginal infringement. This time it was the striker mouthing an English obscenity in oor Wullie's direction. Luckily, he was already sprinting away to patrol the next phase of play. He's had far worse at Ochilview anyway.
'Collum strolled comfortably through the match'
And so the game continued uneventfully, in terms of goals and indiscretions. It wasn't until the 55th minute that Willie was able to caress his yellow card and, finger-on-thumb, skilfully brandish it towards an Albanian transgressor. The relief looked palpable as he unclicked his pen and stroked the card back into its home. It would mean Kukeli would miss the next match, but that cuts no ice with oor Wulllie. This is justice.
With the caution-dam burst, Willie swished another three obvious yellows after this, before the match came alive. France's two late goals, and Albania's gallant, but defeated resistance, would be the game's talking points; Payet, not Collum, the name on everyone's lips. Three short Collum-esque peeps and the game was over. Gallic celebrations began, Willie and his henchmen made quietly for the tunnel.
The Scottish referee strolled comfortably through the heat of this elite encounter, under the scrutiny of tens of millions. He's now a fair bet to be handed another glamour match at these Euros. Scotland's Willie Collum: flayed, domestically, season upon season by the same players and managers now watching all of this from their armchairs.