Euro 2016: England v Iceland is day of destiny for Roy Hodgson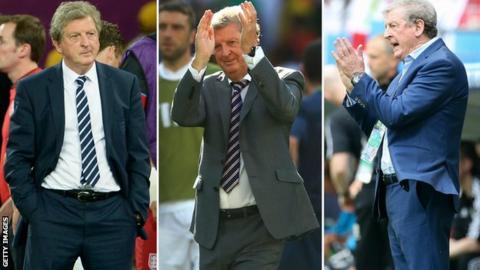 England arrive in Nice on Sunday to prepare for the Euro 2016 last-16 meeting with minnows Iceland - but it has not been a journey without incident.
They find themselves in the tougher half of the draw with Spain, Italy, Germany and France after finishing second in Group B behind Wales, England's fate sealed by a goalless draw against Slovakia in Saint-Etienne.
England manager Roy Hodgson faced fierce scrutiny after his policy of making six changes, including resting captain Wayne Rooney, did not produce the win required to put them ahead of Wales in the standings.
There could still be salvation for Hodgson, however, as England are now firm favourites to reach the quarter-finals - but the stakes are huge for manager and players.
Hodgson's day of destiny
The equation for Roy Hodgson is simple. If England cannot navigate a way past Iceland and into a last-eight meeting with hosts France in Paris, it is impossible to see how he will survive as manager.
The Football Association has already earmarked time for discussions about Hodgson's future when his contract expires at the end of Euro 2016, so the whole debate will be framed by events in France.
FA chairman Greg Dyke has suggested that a tag of "unlucky losers" in the quarter-final may save Hodgson and a place in the last four would be regarded as success. A semi-final place will be enough to extend his reign to six years - the end of the next World Cup in Russia in 2018.
What has not been mentioned, or indeed what would not be countenanced, is a last-16 defeat by a country ranked 34th in the world and with a population of 330,000 - the same as Leicester.
Hodgson has also had to deal with rumblings that some inside the FA were unhappy at his shock tactic of six changes against Slovakia with much still at stake, leaving England exposed to more dangerous opponents should they go deeper in Euro 2016.
It has provided the backdrop to the build-up to this Iceland game, making it one he simply must not lose.
The flip side for Hodgson - the positive side - is that this is an eminently winnable game and a comfort blanket after the criticism he received for failing to guide England to the top of their group after draws against Russia and Slovakia plus that late Daniel Sturridge winner that secured a 2-1 victory against Wales.
Hodgson needed to catch a break and it may have arrived when Iceland substitute Arnor Ingvi Traustason slid in at the far post to score the injury-time winner against Austria.
It lifted Iceland into second place above Portugal, sparing England a meeting with Cristiano Ronaldo and the country that put them out on penalties in Euro 2004 in Lisbon and at the World Cup in Gelsenkirchen, Germany, two years later.
Iceland did finish above the Netherlands in qualifying for this tournament - beating them home and away - but Hodgson and England will be more confident than if they were playing Portugal.
England closing ranks
England returned to their base in Chantilly with criticism - not unjustified - ringing in their ears, mainly of Hodgson as his mass alterations to his starting XI not only failed to get the required result but also plunged his side into more dangerous territory in the draw.
Rooney was understood to be perplexed at Hodgson's decision to exclude him, especially as he had been England's best player in their opening two games.
If he was harbouring any pain, he swept it aside as he made himself front and centre at a midweek media briefing, slightly unusual as the England captain is always scheduled to appear the night before a game.
He stood squarely behind Hodgson in an impressive manner, insisting that while every player wants to play every game he "respected" the decision and accepted it. He also took the opportunity to back those players who came in, insisting they were more than good enough to get the result that eluded them.
Hodgson himself was not hiding away. He stopped to chat with members of the media as he strolled across to the warm-up pitch at England's secluded training base before leaving the entire session open as he took a highly vocal and active role in the drills undertaken.
The sessions themselves were a mixture of hard graft, working off frustrations in a serious environment and some lighter moments.
Hodgson's assistant Ray Lewington was called out by several players for getting scores wrong as he took charge of some highly competitive five-a-sides - "just testing" was his response - as well as finding himself on the rough end of the fiercely competitive Rooney's tongue when he ignored a clear handball.
If this was what Rooney is like in a training environment, then it is clear to see what drive he offers in a match situation and why the rest of England's squad look to the 30-year-old Manchester United captain for inspiration.
Hodgson was in combative mood himself, hitting back at suggestions he had not done his homework on Iceland by deciding to watch Hungary and Portugal's 3-3 draw at the team hotel.
He dismissed any thought he is treating Iceland lightly as "laughable" and said: "We sent five people to Paris to watch Iceland play Austria, including Gary Neville and Dave Watson, plus our video scout Andy Scoulding, plus a guy to film it and another guy who has been scouting games for us."
Harry Kane was also presenting the united front as he backed Hodgson, saying: "He's been a fantastic coach for me, a fantastic manager. I've learned a lot from him. Everything I've learned from him has helped my career."
Hodgson has received the public backing of his players during one of his most turbulent weeks since he succeeded Fabio Capello in May 2012. If there are any cracks in the England camp they have been well disguised.
England have said and done all the right things to show they mean business and are behind Hodgson - but the acid test will come in Nice on Monday.
Hodgson demands cutting edge
England's three Euro 2016 games have followed a pattern - plenty of possession but little end product.
Iceland are regarded as a team built on solid defence by veteran Lars Lagerback and his co-coach Heimir Hallgrimsson, a dentist who will take total control after Euro 2016.
They have scored four goals to England's three in the group stages and have a far better ratio of 4.3 shots per goal to the 14.3 shots per goal of Hodgson's team.
England have also completed twice as many passes as Iceland, 1,536 to 797. Iceland's efficiency is impressive.
There has been much talk of England requiring a cutting edge and it is a flaw Hodgson is clearly aware of judging by his demeanour during that open training session on Thursday.
England's players scored only nine goals out of 47 attempts. Jamie Vardy, Kane and Jack Wilshere scored twice while Dele Alli, Raheem Sterling and Sturridge scored one.
Hodgson did not spare his players in front of the watching media during an intense 20-minute drill, telling them: "The quality at the moment has to be better than this."
Assistant Lewington was also on the case in a drill that involved Sterling and Kyle Walker getting into wide positions and delivering crosses, shouting: "Be composed. Concentrate."
It has become a problem and there has been an element of "it'll be all right on the night" about England's rhetoric but talk will need to be turned into action against Iceland.
England's selection dilemma
Hodgson's decision to make six changes and its lack of impact was the main talking point after the draw against Slovakia. It will be on the agenda again leading into the Iceland game.
Rooney will return, of course, as will full-backs Walker and Danny Rose ahead of Nathaniel Clyne, who was outstanding against Slovakia, and Ryan Bertrand.
Wilshere and Jordan Henderson will step aside for Rooney and Alli - leaving Hodgson's only real dilemma who to play up front.
Kane looks on course to return but Hodgson must decide whether to keep Sterling or either play Vardy in a wide role or Sturridge for added unpredictability and firepower.
It should not be a match for major selection shocks. It may well be a case of once bitten twice shy for Hodgson.
My England starting XI
Choose who you would pick in the England starting XI in Russia - and then share it with your friends using our team selector.