BBC Sport - Euro 2016: Republic of Ireland enjoyed taking on 'Europe's best'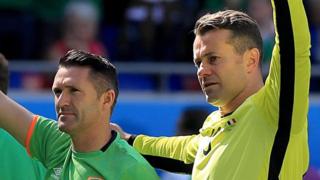 Republic enjoyed taking on 'Europe's best'
BBC Sport NI's Thomas Kane reports after the Republic of Ireland lost 2-1 to hosts France in the last 16 of the Euro 2016 tournament.
John O'Shea, Robbie Brady and Seamus Coleman all spoke in the aftermath of the game.
Manager Martin O'Neill and assistant Roy Keane expect formal ratification of their new contracts to remain in their positions soon, but experienced trio O'Shea, Robbie Keane and Shay Given have not yet revealed whether they will continue their international careers.
This video is available to UK users only