Kilmarnock boss Lee Clark says fans should 'trust his judgement' on new players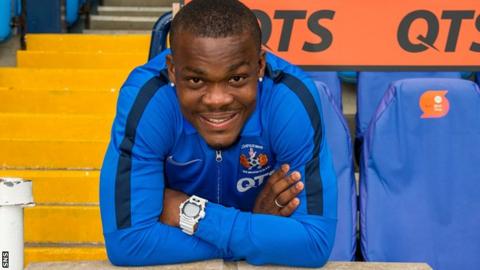 Kilmarnock manager Lee Clark says fans should trust his judgement after signing 11 new players in a "drastic" summer overhaul of his squad.
Clark released seven players and transfer-listed another seven, four of whom have moved on, to make way for the 11 new arrivals announced last week.
Many are unfamiliar to the Rugby Park faithful but Clark told BBC Scotland:
"That's what thousands of Huddersfield fans said when I signed Jordan Rhodes because he was unheard of.
"So we hope in three or four years time some of them are getting sold for £9.5m as well.
"The fans should trust me. I have a good eye for players. There are other examples at Birmingham City and at Blackpool - Mark Waddington [one of the 11 new arrivals] being one, going from Blackpool to Stoke City.
"It isn't always the names. Don't worry about the names on the back, worry about what they are doing for the badge on the front."
Clark signed Rhodes during his time as Huddersfield boss in 2009 and sold him to Blackburn for £8m - after 85 goals in 147 games - three years later. Rhodes subsequently moved on to Middlesbrough in February for an initial fee of £9m.
One of the new arrivals at Kilmarnock is 21-year-old Ivory Coast-born striker Souleymane Coulibaly, who was at League One Peterborough last season before a brief loan spell at League Two Newport.
"I spoke to Peterborough manager Graham Westley for a character reference and he couldn't speak highly enough of him in terms of his quality and personality," said Clark.
"Play him with the right striker and in the right formation, you know he will get his fair share of goals.
"He will bring excitement to the supporters. He has got the famous somersault when he scores - though I'm not too sure the medical team will be too keen on that! But it is all part of the entertainment package."
Kilmarnock's new signings
Goalkeeper:
Oliver Davies (aged 21, loan)
Defenders:
Joshua Webb (20), Jamie Cobain (19), William Boyle (20, loan), Jonathan Burn (20, loan), Mark Waddington (19, loan)
Midfielders:
Callum McFazean (22), Jordan Jones (21), Martin Smith (20)
Forwards:
Souleymane Coulibaly (21), Flo Bojaj (20, loan)
Clark felt he had to change "not just the personnel but the mentality and characteristics of the group" after a season in which Kilmarnock only saved their Premiership status in the second leg of the play-off final with Falkirk.
"We hope because of the age of the players and the quality we believe they have, this will be the most drastic it will be during my time with the club," he added.
"We hope these lads have a long future with the club and the [transfer] windows that follow will just be other additions to the squad."
In addition to the 11 new arrivals, Clark confirmed central defender Miles Addison has signed a new three-year deal, following Rory McKenzie last week.
"Miles was unbelievably consistent when I came in and he was the big one for me," Clark said.
"We believe with [goalkeeper] Jamie McDonald, Miles, [left-back] Steven Smith, [midfielder] Gary Dicker and [striker] Kris Boyd, we have the experience and knowledge and know-how to get these players through what will be a tough season, but an exciting one."
Four of the players Clark made available for transfer - Kevin McHattie (to Raith), Tope Obadeyi (Dundee United), David Syme (Partick) and Mark O'Hara (Dundee) - have moved on, while defender Conrad Balatoni and strikers Dale Carrick and Kallum Higginbotham are in talks with other clubs.
"They might go in the coming days or it might take a couple of weeks," added Clark.
"Once that is done, there may be one more that pops up that we can go for that might be a permanent or a loan signing. But my priority at the moment is balancing the books."
Top-six finish 'a tall order'
Clark has stated his ultimate aim is to follow the likes of St Johnstone, Ross County and Motherwell in establishing Kilmarnock in the top half of the Scottish Premiership, and eventually challenging for a European place.
"There has to be an improvement," he added. "We don't want to be fighting a relegation battle again and going into the final games of the season needing to get results to keep us in the division.
"We want to be enjoying our football, we want the players to express themselves and you do that when you are getting the right results.
"For us to get from where we are and be in the top six would be a massive jump. Are we capable of doing it? Yes, but is a tall order."