Russia players Pavel Mamaev and Aleksandr Kokorin punished for Monaco party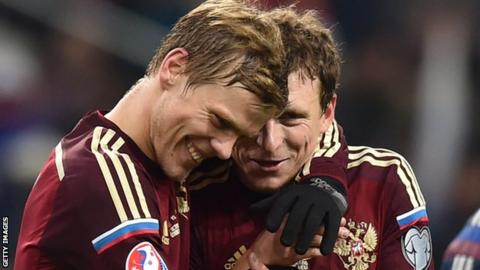 Two Russia players have been punished by their clubs after video emerged of them at a party in Monaco following the national team's Euro 2016 exit.
It was reported that Aleksandr Kokorin and Pavel Mamaev spent 250,000 euros on 500 bottles of champagne in a nightclub, though that was denied.
Zenit St Petersburg's Kokorin and FC Krasnodar's Mamaev have been fined and demoted from the clubs' first teams.
The Kremlin said President Vladimir Putin was aware of the incident.
"We have to be very careful and work out to start with whether our footballers paid for this beastliness or someone else," said spokesman Dmitry Peskov.
He added "God would be the judge" of the players if they were responsible for the party.
But the owner of the nightclub where the two players were pictured said they had not ordered the champagne, were out with their wives and did not drink alcohol.
"There was a private party in Twiga organised by some Russians," Flavio Briatore wrote on Instagram.
"They recognised Kokorin and Mamaev and as a sign of respect, as they are fans, they started sending them some bottles of champagne and they asked our DJ to play the Russian anthem."
Russia were eliminated from Euro 2016 at the group stage having drawn with England and lost to both Slovakia and Wales.