South Sudan interim coach Leo Adraa resigns over owed wages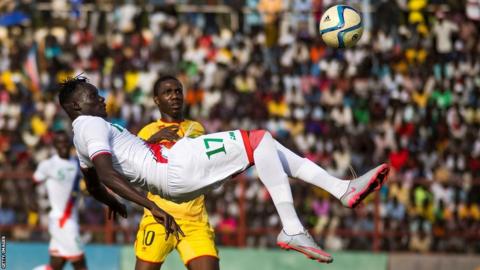 Leo Adraa has resigned from his position as interim coach of South Sudan over non-payment of his salary.
The Ugandan had been put in temporary charge following the departure of Lee Sung-jea and deputy coach Bilal Felix's rejection of the vacant role.
"They employed me for the two remaining Africa Cup of Nations qualifiers but I cannot work for a team that fails to pay me," Adraa told BBC Sport.
Felix also said he was owed arrears at the the time he declined the position.
South Korean coach Lee had handled the team for two years but quit in March after the South Sudan Football Association started struggling with financial problems.
With those issues unresolved, his successor Adraa leaves the post having taken charge of only one match - the 3-0 loss to Mali in a 2017 Africa Cup of Nations qualifier in June.
South Sudan were admitted as a member of Fifa only in 2012 after the country became independent.