Peterborough United: Grant McCann open to Paul Taylor contract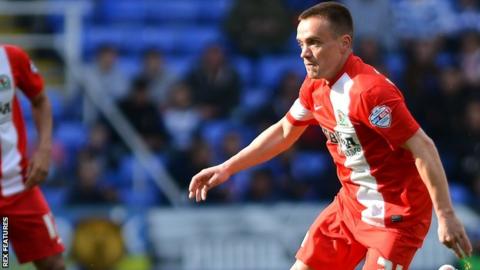 Peterborough United manager Grant McCann has not ruled out re-signing former Posh forward Paul Taylor.
Taylor, 28, is training with McCann's side after being out of the game for a year since leaving Ipswich.
"He hasn't really done much apart from play five-a-side with his mates, but he looked good in training," McCann told BBC Radio Cambridgeshire.
"His fitness is nowhere near where it needs to be, but he hasn't looked out of place in front of the boys."
Taylor and McCann played alongside each other at Posh in the Championship before the former's £1.5m move to Ipswich in 2012.
However, the he only made seven league starts in three seasons at Portman Road and had loan spells at Posh, Rotherham and Blackburn.
"I'm open to all things, especially for someone like Paul Taylor," said McCann.
"[Assistant manager] Lee Glover had never seen him before and the first thing he said was 'wow, if you get that boy fit he could be special'.
"He's only 28, he hasn't lost his pace, he's still got that turn that sends defenders the wrong way every time he receives the ball, he's a strong boy and a good character around the training ground.
"But at the minute he's solely focusing on getting fit. I've told him I'll try to involve him as much as I can in some of the pre-season games and we'll take it from there."