Matt Ritchie: Newcastle winger rejected Bournemouth offer before leaving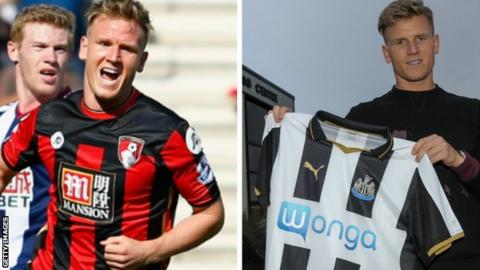 Matt Ritchie says he turned down a new contract offered by Bournemouth before opting to join Newcastle United.
The Scotland winger moved to St James' Park on a five-year deal for a reported £12m earlier this month.
Ritchie, 26, said interest from a club Newcastle's size was something "he wanted to pursue" as they seek an immediate return to the Premier League.
"It's going to be a really exciting season and something I really want to be part of," he told BBC Radio Solent.
Ritchie, part of two promotion-winning squads during his three seasons at Bournemouth, revealed he was "caught off guard" by initial interest from Rafa Benitez's side.
"As soon as I heard, it was something that excited me," he said. "The size of the football club, the manager and when you look a bit deeper, the squad we've got."
A wanted man on two fronts
Time away with Scotland prevented Ritchie negotiating a new deal at Bournemouth before Newcastle's offer emerged.
"I'm sure if the offer (of a new contract) had come at a different time, or if I'd come back from Scotland duty with no interest from other clubs, there would've been some sort of agreement," Ritchie admitted.
An offer for both him and team-mate Callum Wilson from West Ham in May failed to gather momentum as he focused on a second top-flight season at the Cherries.
"I think it was flattering," Ritchie said. "But, nothing came of it.
"I was working hard as if I was coming back to Bournemouth and had nothing else on my mind.
"But when things do come up and you hear of interest from other clubs, you have to deal with it and that's football.
"When a club like Newcastle is interested, I wanted to pursue it," he added. "I'm delighted to be here, it's a fantastic club."
'Cherished' time with Cherries
Four goals in his first Premier League season, including a goal of the season contender against Sunderland, will remain among the highlights of Ritchie's time at Bournemouth.
"I've got to thank everyone there," he said. "I'll probably never get memories like that again, certainly in the way we got promoted twice. I'll cherish those and I certainly won't forget them.
"The manager and the lads were fantastic with me. I've become a better player since I first arrived there."
Eddie for England?
Ritchie left Bournemouth "on great terms" with former manager Eddie Howe, a man currently in the conversation about potential new England managers.
"I back him to have an incredible managerial career," Ritchie said. "Whether the England job is something he would want to take right now, I'm not too sure.
"He's certainly got the skills and potential to be a top, top manager and England would fit that criteria.
"I'm sure he'll have his own agenda, but his future's bright."
Matt Ritchie was talking to BBC Radio Solent's Chris Wise.