Adebayo Akinfenwa: Wycombe Wanderers striker sent off on debut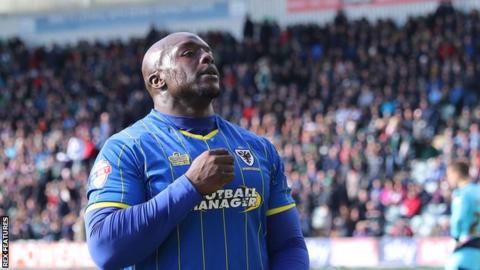 Adebayo Akinfenwa was sent off on his Wycombe Wanderers debut in a pre-season friendly against Le Havre on Tuesday.
The 34-year-old - nicknamed 'The Beast' and recognised for his immense physical strength on the Fifa series of video games - joined Wycombe on Sunday.
But during the first game of their pre-season trip to France, he saw red for a scuffle after an opponent shoved Wycombe's Luke O'Nien to the ground.
Striker Akinfenwa later said on Twitter: "The sending off was dubious."
However, he continued: "I should have known better but guess every day is a learning day."
The Le Havre player also saw red for the incident, but both sides continued to play 11 v 11 on the request of both managers.