Jim McIntyre calls for five substitutes for early League Cup ties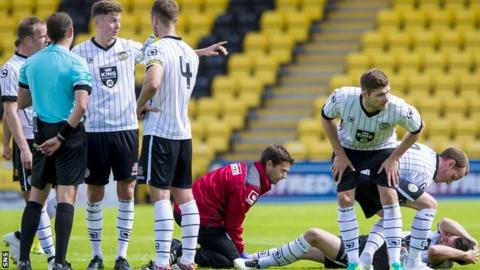 Ross County manager Jim McIntyre has called for five substitutes to be allowed in the Scottish League Cup.
The new group format means an earlier start to the season and McIntyre believes an extra two replacements would help players find their fitness.
"There's no doubt in my mind that in this stage of the competition they should allow five subs," he said after a 1-0 win over Montrose.
"I feel that there were a few players out there today getting stretched."
There are eight groups of five teams playing four games each, with the winners of each group and the four best runners-up go through to the knock-out stage.
There they will be joined by Celtic, Aberdeen, Hearts and Hibernian, who have been given byes because of their involvement in European qualifiers.
"Normally, at this time in the season, you would be making six or seven changes and I think that's maybe something that we can look at for next season," added McIntyre.
"Then maybe when you move into the next round it goes back to normal.
"But I just feel that at this stage you're putting players a wee bit at risk."