Eric Bailly: Jose Mourinho pledges to mentor young Ivorian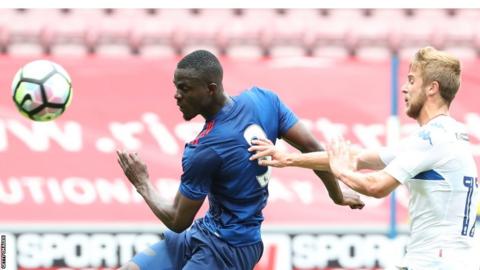 Manchester United manager Jose Mourinho has hinted it will take time for new signing Eric Bailly to settle in at the club but will assist him in every way.
The 22-year-old Ivory Coast international defender signed from Villarreal for £30m last month.
He made his debut in a 2-0 friendly win over Wigan on Saturday.
"I will give him everything to try to make him better and better, like I did with other central defenders I've had," Mourinho said after the game.
"He's a very young boy coming from a completely different environment, but you could see what he is at this moment.
"This was the first time he has worn a shirt like the Manchester United shirt. He can't speak English and can only communicate with the ones who are French speakers or Spanish.
"I wanted to give him more minutes because he needs to play more than others. He needs to feel it and start communicating."
Bailly was part of a Villarreal defence that conceded just 35 goals in 38 league matches last season.