Luke Williams: Swindon Town 'have work to do' on recruitment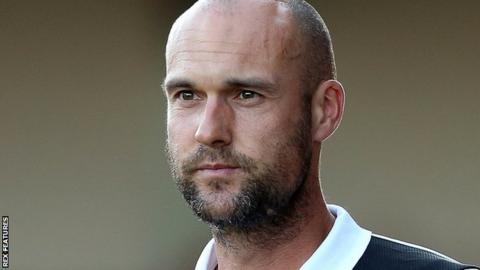 Swindon Town head coach Luke Williams says his squad needs strengthening before the start of the season.
The Wiltshire club added midfielder Conor Thomas on 4 July after Liverpool goalkeeper Lawrence Vigouroux signed for an undisclosed fee on 1 July.
Williams has also added Woking midfielder John Goddard to his squad.
"We do have a little bit of work to do on recruitment. We need to strengthen a little bit and there is still time," Williams told BBC Wiltshire.
"We are particularly fussy about who we bring in because we want to make sure we've got the right people.
"Good players are in high demand and other clubs are tussling for their signature."
Williams continued: "We have to be in there, try to keep tabs on people and try to convince them this is the right place for them to play their football.
"There's still time. We've still got targets that we're pursuing.
"It's a balancing act - the more players you bring in, the more potential you have of breakdown of team spirit and players becoming disillusioned because they feel like they're a long way from the team."
Strikers Nicky Ajose, Michael Smith and Miles Storey have all left Swindon this summer.
No Rio for Kasim
The Robins, who finished 16th in League One last season, begin their 2016-17 campaign at home to Coventry on 6 August.
There had been concerns that star midfielder, Yaser Kasim, would miss the start of the season while representing Iraq in the Olympics.
But Williams added: "I think Yaser has decided he is going to withdraw from that squad. It's something he has discussed a lot with the manager of the (Iraq) team and his family.
"It was a very tough decision for him. We've given him licence to make the decision. We don't want him here and unhappy, feeling like we've deprived him of something.
"But we're of course delighted to have him with us, if that's his decision."
Kasim, 25, who joined Swindon in 2013 after beginning his career at Brighton, has played 16 times for his country.