Truro City: Tom McHale 'can make world-class saves'
Last updated on .From the section Football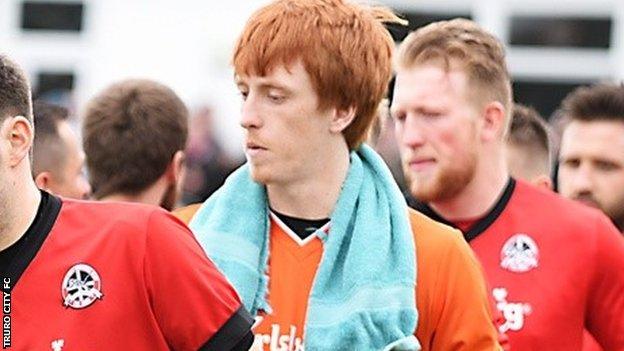 Truro City goalkeeper Tom McHale has the ability to play at a much higher level than the National League South, according to manager Lee Hodges.
McHale made 12 appearances for Truro last season and played in pre-season.
"If you take the game [against Plymouth], he makes four world-class saves but he switches off for the split second and it costs you a goal," Hodges told BBC Radio Cornwall.
"If he cuts that out he'll end up a lot higher than our division."
Hodges admitted he would like to bring in a further three players to strength the squad, after losing in the play-off semi-final last season, but said there are difficulties in bringing players to Cornwall.
"We were lucky enough to have Barry Hayles down for a time here and the chairman was great in putting him up," he added.
"There might be one or two options like that when we are looking further afield and can put them up, that makes life a lot easier.
"The problem comes when you're training Tuesday and Thursday and they're based in London, that does make it very difficult. But everyone knows where we are and we just need to get on with it."